ArtMap is a plugin that allows you to create and share virtual, custom-made paintings.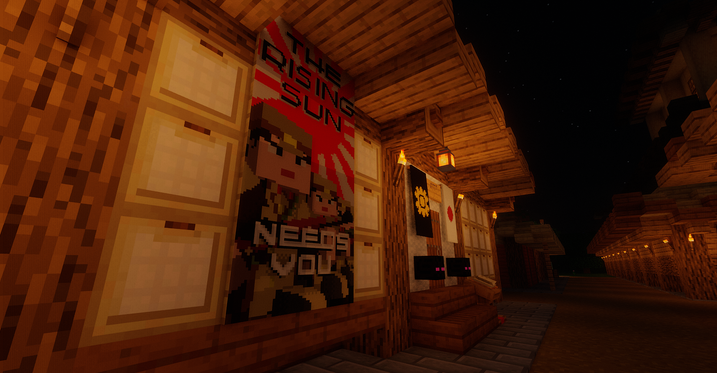 In order to start creating your inspirational art piece, there are a few things that you will need to procure, some required items. After you have created an Easel and a Canvas, you may place them down and right-click on them to start painting.
The easel is a wooden frame for holding an artist's work (canvas) while it is being painted or drawn. In order to craft an easel, you will need:

1 Item Frame
1 Armor Stand
2 String
2 Leather
The canvas is the painting surface. This is what your art piece will materialize on.
A canvas is square and has a number of equal-sized points, called pixels. Each pixel can hold one color of your choice. There are 3 different canvas sizes:
Normal: 32 x 32
Medium: 64 x 64
Large: 128 x 128.
To craft your canvas, you will need the following materials:
1 Empty Map
4 Leather
4 Emerald

1 Emerald Block
4 Empty Map
4 Leather

1 Diamond Block
4 Empty Map
4 Leather

The paint brush is an item that you use whenever you have completed your art piece. To use, right click the Paint Brush while sitting at your easel in front of the art piece you want to save. A prompt will appear in chat for you to name your art piece. To craft a paint brush, you will need:

Now, what's art without your colors? Dyes are the paints to your canvas! To use your dye and paint where you are aiming on your canvas, left click to color one pixel, and right click while moving your camera to freely draw. You can use all the dyes available in Minecraft to paint your art, alongside other custom colors mentioned below, including but not limited to:
Colour Description
Cream
Light Grey
Emerald Green
Gold
Brick Red
Brown brick read
Coffee
Ice Blue
Caramel Brown
Maroon
Leaf Green
Dark Chocolate brown
Gun Powder
Snow White
Egg White
Aqua
Ghast Grey
Iron grey
Graphite
Water Blue
Lavender Purple
Transparent
Deep Blue
Podzol Brown
Grass
Wood Brown
Glowstone Yellow
There are tools available to assist you in making your art piece as authentic and artistic as it can be! Whether it is to adjust your color palette to your preference, or to fix a mistake you've made, you can use these to edit your art to detail and perfection.
| | |
| --- | --- |
| Tool Name | Item |
| Fill | Bucket |
| Shade | Coal |
| Tint | Feather |
| Rotate | Compass |
| Eye Dropper | Sponge |
You can use a Bucket, alongside a dye of your choice to completely paint your canvas in that color!
With the dye of choice in your off-hand, and your bucket in your main hand:
Left click the canvas to fill it with that dye's color, and right click to undo your last fill.
Hue tools allow you to adjust the color to your liking, beyond the basic ones! The tools allow you to darken or lighten a pixel's color by up to 2 times.
Shade — Darken
With some Coal in hand,
Left click while aiming at a pixel you wish to darken
Right click while moving your camera to use this freely
Tint — Lighten
With a Feather in hand,
Left click while aiming at a pixel you wish to lighten
Right click while moving your camera to use this freely
The Rotate feature allows you to turn/flip your canvas vertically or horizontally, in order to reach a tough spot more easily.
Hold a Compass, and
Right click to flip the canvas vertically
Left click to flip the canvas horizontally
A Sponge can be used as a brush to paint multiple pixels at once. You may left click with the sponge on the canvas to grab a color, and right click to start painting with it.
And of course, you can share all your artworks! Finalized art pieces are published in and are accessible through the "Artworks" category in the /artmap menu. You can view your own and other players' art pieces throughout the server. Each art piece is categorized based on the artist's name.