The Runes system is a versatile Slimefun mechanic that allows you to obtain Netherite and apply powerful enchantments to your gear.
There exist 16 runes total; 15 of them can be added to gear.
Runic Enchantments can add a multitude of effects to armor, tools, and weapons.
Disclaimer: The Auto Disenchanter does not remove Active Rune Enchantments. The Auto Enchanter does not add Passive Rune Enchantments.

Used in the Runic Anvil in order to obtain Netherite Ingots: Corruption Rune + Gold Ingot = Netherite Ingot.
Three different Runes of this category can be applied to an item in total. Some have also been balanced or restricted in Nations.
Rune
Effect
Gear
Beheading
Beheads any mob (except bosses) or player on kill. Heads of mobs spawned in the Nether are 4x more likely to drop instead (Looting considered).
Axe, Sword, Bow, Trident
Binding

Allows you to keep the item once after dying. The enchantment is consumed upon death.

If your account goes offline while combat tagged, you will lose your soulbound items.

All gear
Explosive (++)
Tools: Explodes blocks around a broken block. The additional, exploded blocks must also be able to be broken with the respective tool for the effect to take place.
Ranged Weapons: Hits enemies with a shockwave and knocks them into the air. The enemy must be on the ground for the effect to take place.
Axe, Bow, Crossbow, Pickaxe, Shovel, Trident, Shears
Felling
Harvests an entire Tree or Huge Mushroom at once.
Axe
Glowing
Grants Night Vision.
Helmet
Heatproof
The Heatproof Rune and any Heatproof-enchanted gear are not destroyed in fire or lava.
Armor: Grants Fire Resistance II when wearing at least one Heatproof-enchanted armor piece.
All gear
Icy

Briefly immobilizes a target. The target must not already be frozen by an Icy-enchanted weapon for the effect to take place.

In Nations, firing an Icy-enchanted weapon while riding a horse, will affect your horse with Slowness III for 3 seconds.

Bow, Crossbow, Trident
Molten
Automatically smelts the broken block. Compatible with Vein and Felling.
Axe, Pickaxe, Shovel, Hoe
Potency

Automatically crushes Copper Ore, Iron Ore and Gold Ore into 2 of their respective dusts.

In Nations, Potency will also crush Stone into Gravel, as long as the pickaxe does not also have Explosive.

Pickaxe
Reflection (+)
Negates fall damage and grants Jump Boost VI.
Boots
Swift

Grants Speed III.

In Nations, Swift can only be applied on Leather Leggings.

Leggings
Vampiric (+)
Allows for a 5% chance on fully charged swings to heal the user for 8HP (4 hearts). (30s cooldown)
Sword
Vein (++)
Instantly mines an entire vein of ore. Compatible with Silk Touch, Fortune, Molten, Potency.
Pickaxe
(+) Disabled for Nations.
(++) Unbreaking I, II, III and this Rune are not compatible; enchanted gear will always take 1 durability of damage per use/broken block. However, Unbreaking IV (granted by Solid Rune) is compatible with this Rune.
Multi-block breaking runes are also compatible with the relevant mcMMO Skills.

Runes of this category do not take up a Rune slot, and can be applied multiple times on an item.
| | | |
| --- | --- | --- |
| Rune | Effect | Gear |
| Solid | Adds a level of Unbreaking, up to a maximum level of 4. | All gear, including Trident, Shears and Fishing Rod |
| Upgrade | Adds a level of Efficiency, up to a maximum level of 6. | Axe, Pickaxe, Shovel, Hoe, Shears |
Bajie and Rigani are boss mobs that drop the Runes used for augmenting gear.

All Runes but one are obtained by killing Rigani. The Corruption Rune is obtained by killing Bajie.
Rune Bosses will despawn if all players near them die by any means.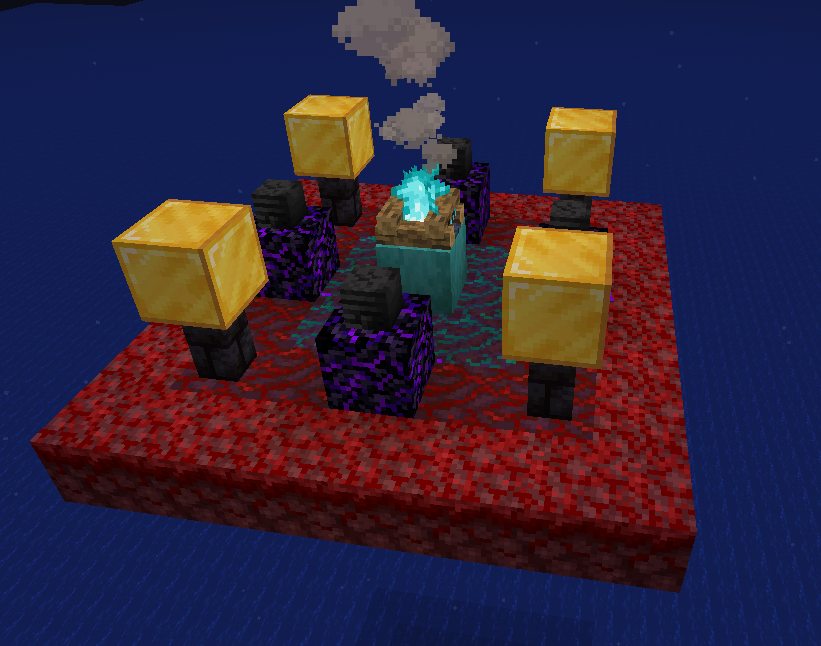 Bajie is a raging, merciless god that must be invoked by performing a sacrificial ritual on an altar. The Blocks of Gold will be consumed in the process of summoning him.
He always drops a single Corruption Rune when defeated.
Blocks:
24 Crimson Nylium (floor)
16 Crimson Hyphae (floor) - not Stem!
9 Warped Hyphae (floor) - not Stem!
4 Polished Blackstone Brick Wall
4 Block of Gold
4 Crying Obsidian
4 Wither Skeleton Skull
1 Stripped Warped Hyphae (middle) - not Stem!
1 Soul Campfire
Arranged in a 7x7 area.
The altar is activated by placing a Soul Campfire as the last block of the structure. Lightning will confirm this. The Soul Campfire has to be replaced before each ritual.
Bajie can then be summoned by killing a baby pig on top of any block of the structure, at midnight.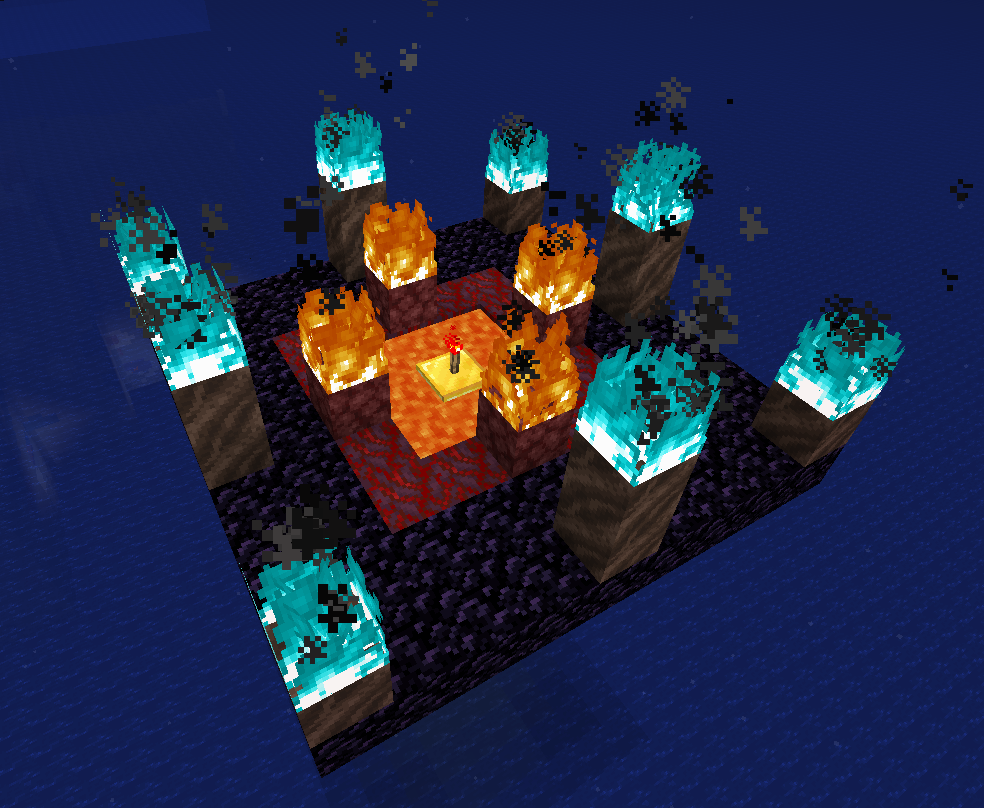 Rigani is a furious entity, the Keeper of the Runes. She gets increasingly stronger the more players near her.
Rigani can be summoned in a summoning square. The Block of Gold, Lava, and some of the Netherrack and Soul Sand will be consumed in the process of summoning her.
When slain, she will randomly choose to drop a single Rune of any type (excluding Corruption Rune).
The killing blow on Rigani should only be by a Sword, Axe, or Bow for a Rune to drop. In Nations, it can also be by a Gun. If Rigani dies due to other causes (e.g. fire, lava, drowning) she will not drop a Rune.
Blocks:
56 Obsidian (floor)
16 Crimson Hyphae (floor) - not Stem!
12 Soul Soil
4 Netherrack
1 Block of Gold (middle)
At least 2 Lava source blocks (around the Block of Gold)
+ Netherrack and Soul Soil must be lit on fire
Arranged in a 9x9 area.
Rigani can be summoned by placing a Redstone Torch on top of the Block of Gold.
The Runic Anvil is an Electric Machine that lets you apply Runes on your gear. When used, the Rune is consumed, and the respective Runic Enchantment is added to the item.
Note that the recipe for the Runic Anvil requires a Corruption Rune, which is dropped exclusively from Bajie.

A Corruption Rune can also be used in the Runic Anvil to create a Netherite Ingot by converting a Gold Ingot (Corruption Rune + Gold Ingot = Netherite Ingot).
Netherite gear is crafted at the Crafting Table, in their normal recipe pattern.
Netherite armor is the same as Diamond armor in everything except durability.
Netherite tools/weapons are unchanged and function normally like in vanilla.
In Nations, the Netherite Axe specifically is also the same as the Diamond Axe in everything except durability.
The Smithing Table can be used to change Enchanted and/or Rune-Enchanted Diamond gear into Netherite gear (Enchanted Diamond gear + Unenchanted Netherite gear = Enchanted Netherite gear).
Note: In Nations, crafting the Netherite Axe is currently unavailable until further notice.