The Craft HUD is a special panel shown on your Scoreboard when piloting battle-tier craft classes that have cannons:
Aircraft Carrier
Caravel
Cog
Corvette
Cruiser
Destroyer
Dreadnought
East Indiaman
Fighter
Heavy Tank
Infantry Fighting Vehicle
Tank
Truck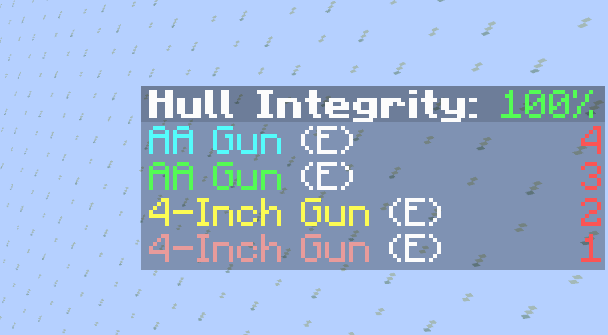 Hull Integrity is the percentage of blocks remaining on your craft since the moment you started piloting it.
Under that, your craft's working cannons are listed. If a cannon is destroyed, it disappears from this list.
Status is denoted by color:
Blue: Firing
Green: Loaded and Ready to Fire
Yellow: On Cooldown
Red: Unloaded/Not Ready
Dark Red: Destroyed/Not Functional
Facing direction is denoted by initials:
(N): Barrel facing North
(E): Barrel facing East
(S): Barrel facing South
(W): Barrel facing West