The Sawmill is an electric Slimefun machine.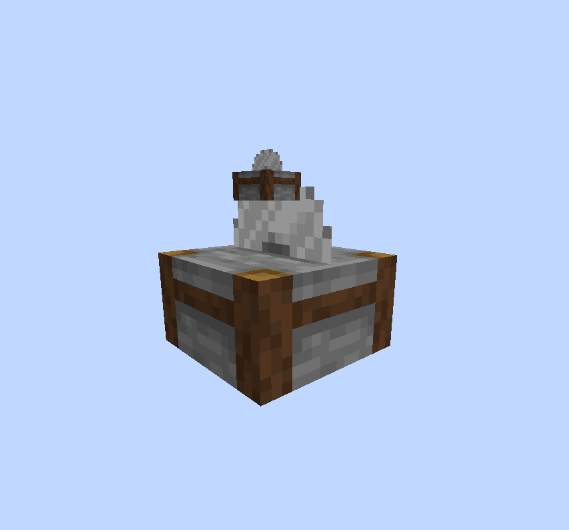 The Sawmill is the electric version of the Table Saw. This means that the Sawmill has the same recipes as the Table Saw.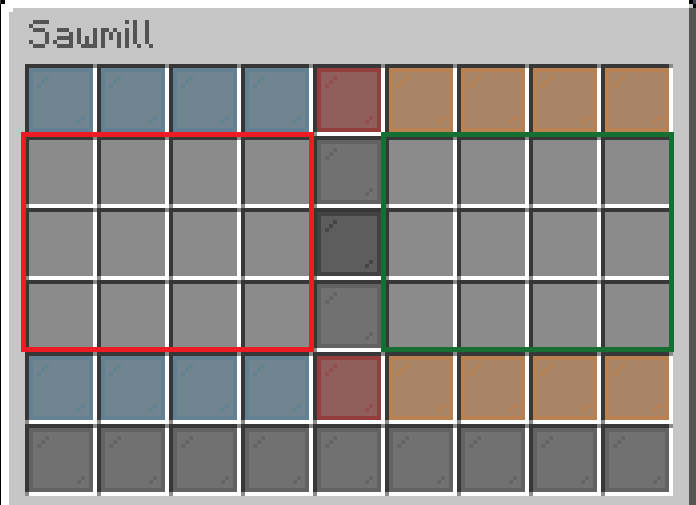 Place the correct items of a recipe in an input slot. After processing, the final items will be placed in the output slots.

| | |
| --- | --- |
| Energy buffer | 128 J |
| Energy consumpion | 8 J/s |
This machine's processing time varies, depending on the recipe.
| | | |
| --- | --- | --- |
| Input | Output | Processing time |
| Oak Log | 8 Oak Planks | 3s |
| Stripped Oak Log | 8 Oak Planks | 3s |
| Oak Wood | 8 Oak Planks | 3s |
| Stripped Oak Wood | 8 Oak Planks | 3s |
| Spruce Log | 8 Spruce Planks | 3s |
| Stripped Spruce Log | 8 Spruce Planks | 3s |
| Spruce Wood | 8 Spruce Planks | 3s |
| Stripped Spruce Wood | 8 Spruce Planks | 3s |
| Birch Log | 8 Birch Planks | 3s |
| Stripped Birch Log | 8 Birch Planks | 3s |
| Birch Wood | 8 Birch Planks | 3s |
| Stripped Birch Wood | 8 Birch Planks | 3s |
| Jungle Log | 8 Jungle Planks | 3s |
| Stripped Jungle Log | 8 Jungle Planks | 3s |
| Jungle Wood | 8 Jungle Planks | 3s |
| Stripped Jungle Wood | 8 Jungle Planks | 3s |
| Acacia Log | 8 Acacia Planks | 3s |
| Stripped Acacia Log | 8 Acacia Planks | 3s |
| Acacia Wood | 8 Acacia Planks | 3s |
| Stripped Acacia Wood | 8 Acacia Planks | 3s |
| Dark Oak Log | 8 Dark Oak Planks | 3s |
| Stripped Dark Oak Log | 8 Dark Oak Planks | 3s |
| Dark Oak Wood | 8 Dark Oak Planks | 3s |
| Stripped Dark Oak Wood | 8 Dark Oak Planks | 3s |
| Crimson Stem | 8 Crimson Planks | 3s |
| Stripped Crimson Stem | 8 Crimson Planks | 3s |
| Crimson Hyphae | 8 Crimson Planks | 3s |
| Stripped Crimson Hyphae | 8 Crimson Planks | 3s |
| Warped Stem | 8 Warped Planks | 3s |
| Stripped Warped Stem | 8 Warped Planks | 3s |
| Warped Hyphae | 8 Warped Planks | 3s |
| Stripped Warped Hyphae | 8 Warped Planks | 3s |
| Oak Planks | 4 Stick | 2s |
| Spruce Planks | 4 Stick | 2s |
| Birch Planks | 4 Stick | 2s |
| Jungle Planks | 4 Stick | 2s |
| Acacia Planks | 4 Stick | 2s |
| Dark Oak Planks | 4 Stick | 2s |
| Crimson Planks | 4 Stick | 2s |
| Warped Planks | 4 Stick | 2s |