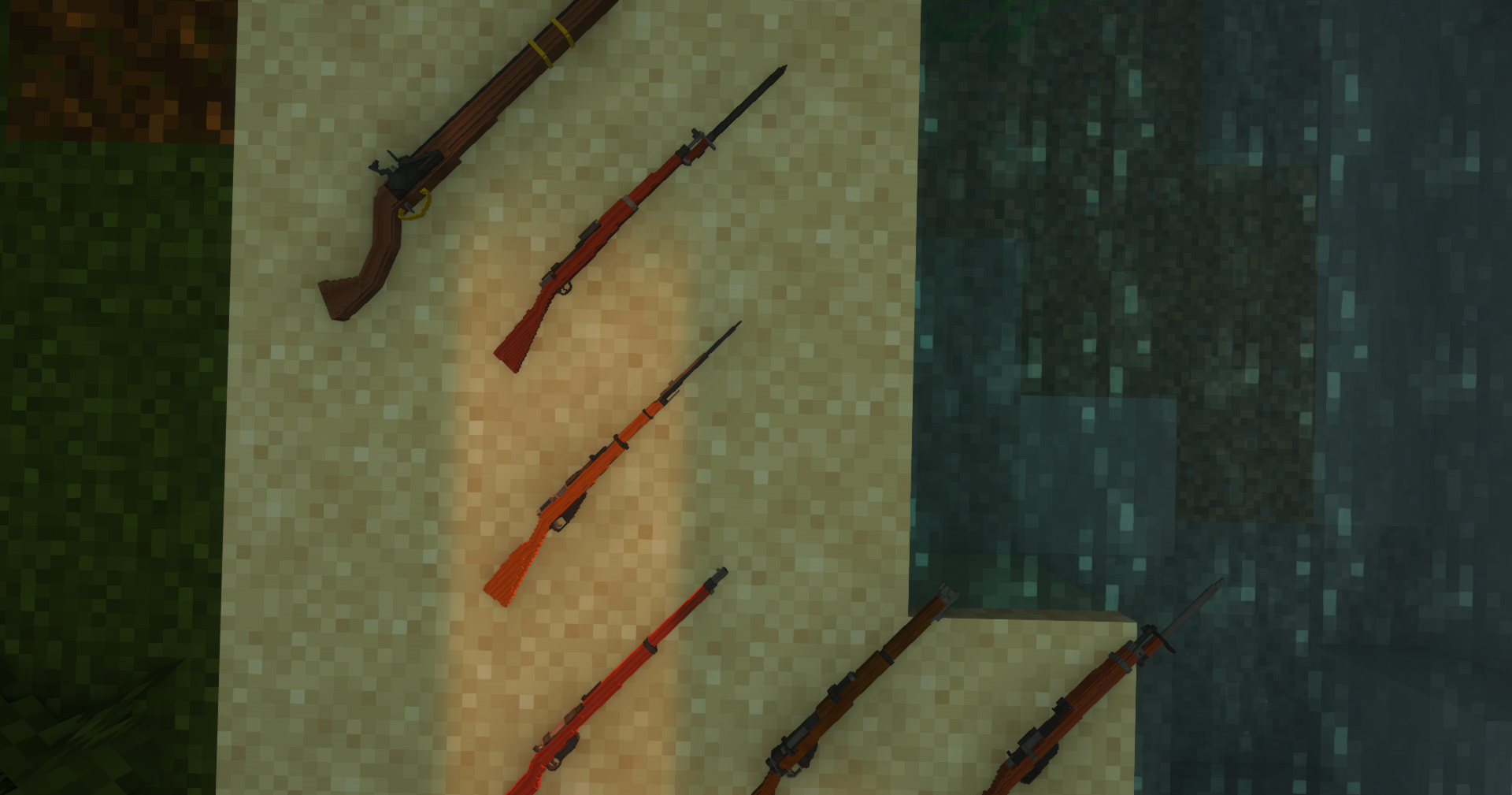 Guns and grenades can be crafted on Nations for PvP and PvE.
There are four classes of guns on Nations: Rifles, Carbines, Machine Guns, and Sidearms. Guns can be crafted by typing /guns, while their ammunition can be crafted by typing /ammo.
Rifles are precise and accurate weapons with low firing rates. They deal high amounts of damage that is amplified by headshots.
Carbines are shortened versions of rifles that can be used while on horseback and come equipped with bayonets for melee combat. However, they suffer from increased recoil and do not inflict extra damage on headshots.
Machine Guns are support weapons with high firing rates. They compensate for their low damage by giving victims the Suppression effect, which increases the amount of damage they take from all guns, and Slowness.
Sidearms are short-range weapons that are most effective at very close ranges.
Some guns' damage also varies with distance.
Suppression is an effect inflicted by Machine Guns. Targets under Suppression will take 30% more damage from all Guns and Grenades; cannot heal from natural health regeneration; and are inflicted with Glowing for the same length, allowing you to easily identify Suppressed enemies on the battlefield.
Shell Shock is an effect inflicted by Frag Grenades, Concussion Grenades and some cannons. Targets under Shell Shock will glow and take increased damage from Shock weapons. Currently there is only one shock weapon, the MP-18.
Blocking with a shield will reduce incoming gun damage by 30%, unless you have the Suppression or Shell Shock effects.
¶ Guns and Grenades List
Damage listed assumes the target is a player in full Protection IV Diamond armour, and is not affected by Suppression.
RIFLES

Name

Description

Damage per Round

Additional Headshot Damage

Magazine (rounds)

Mosin-Nagant
Cheap, standard bolt-action rifle effective at medium ranges.

0 blocks → 1.5 ❤

32 blocks → 2 ❤

48 blocks → 2.5 ❤

64 blocks → 2 ❤

96 blocks → 1.5 ❤

1 ❤

6

Lee-Enfield
Bolt-action rifle with a large magazine capacity.

0 blocks → 2 ❤

32 blocks → 2.5 ❤

64 blocks → 2 ❤

96 blocks → 1.5 ❤

1 ❤

10

Mannlicher M1895

Straight-pull bolt-action rifle with a high rate of fire.

Most effective at shorter ranges.

0 blocks → 2 ❤

64 blocks → 1.5 ❤

0.5 ❤

5

Springfield M1903
Bolt-action rifle firing low-drag projectiles at high velocities.

0 blocks → 1.5 ❤

32 blocks → 2 ❤

64 blocks → 2.5 ❤

80 blocks → 3 ❤

96 blocks → 2.5 ❤

112 blocks → 2 ❤

128 blocks → 1.5 ❤

1 ❤

5

Gewehr 98
Bolt-action rifle firing projectiles at high velocities.

0 blocks → 1.5 ❤

64 blocks → 2 ❤

80 blocks → 2.5 ❤

96 blocks → 3 ❤

112 blocks → 2.5 ❤

128 blocks → 1.5 ❤

1 ❤

5
CARBINES

Name

Description

Damage per Round

Magazine (rounds)

Mosin-Nagant M44
-

0 blocks → 1.5 ❤

30 blocks → 2 ❤

6

Carcano M91
-

0 blocks → 2 ❤

40 blocks → 1.5 ❤

10
MACHINE GUNS

Name

Description

Total Damage per Full Magazine

Magazine (rounds)

Chauchat
-

0 blocks → 6 ❤

35 blocks → 5 ❤

60 blocks → 4 ❤

20

BAR M1918
-

Any distance → 4.5 ❤

20

Madsen
-

Any distance → 6 ❤

30

Lewis Gun
-

Any distance → 15 ❤

100

MP 18

Inflicts excellent close-range damage on players with the Shell Shock effect.

Shell Shock is applied using a Tank, Heavy Tank, or IFV cannon, as well as grenades.

Shell-Shocked enemies will glow (but so will Suppressed enemies, so don't get confused!)

0 blocks → 5 ❤ (10 ❤ with Shell Shock)

32 blocks → 2.5 ❤ (7 ❤ with Shell Shock)

32
SIDEARMS

Name

Description

Damage per Round

Magazine (rounds)

Colt Single Action Army

Revolver with high damage but a low firing rate.

Shooting enemies in the back deals +50% damage.

0 blocks→ 1.25 ❤

16 blocks → 1 ❤

24 blocks → 0.75 ❤

Backshot → +0.5 ❤

6

Colt M1911
The M1911 will deal additional damage on headshots, like rifles.

0 blocks → 0.5 ❤

16 blocks → 0.25 ❤

Backshot → +0.5❤

7

Mauser C96
Semi-automatic pistol that trades damage for a high fire rate.

Any distance → 0.75 ❤

16 blocks → 0.5 ❤

10