Periscopes are multi-block columnar structures that allow for remote observation. They are especially useful in combat and scouting, as your normal field of view on certain craft may be limited by design.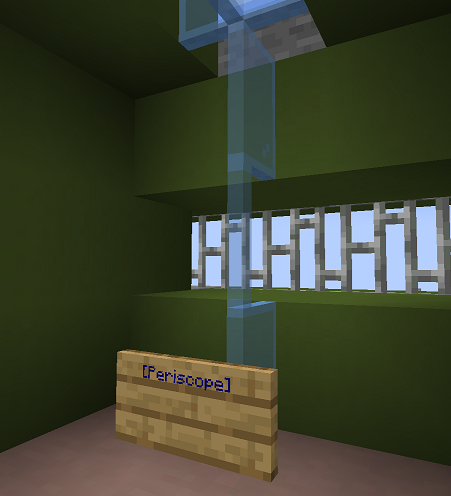 A Periscope consists of a vertical pillar made from Iron Bars, End Rods, Glass Blocks, Tinted Glass or Glass Panes. So long as the structure is a straight column, the blocks you use out of those four and their order do not matter.
The minimum height of periscopes is 3 blocks.
The maximum height of periscopes is 10 blocks.
After constructing the periscope column, place a sign on its bottom-most block and write [Periscope] on the first line. The periscope will then become usable and its text will be colored blue.
Periscopes can be used on the following piloted crafts:
Right-click the Periscope sign to enter Periscope View (mount).
During Periscope View, your camera is placed at the top of the periscope. You can view the world by moving your camera around with your mouse, but your position cannot change (all player movement commands are disabled until you exit it). You cannot enter Periscope View while PvP combat-tagged, but you can while SvS combat-tagged.
To exit Periscope View (dismount), type /dismount. This will return your camera to your player position on the craft.
You will be forcibly dismounted from the periscope if it is damaged, and if its craft sinks or releases.