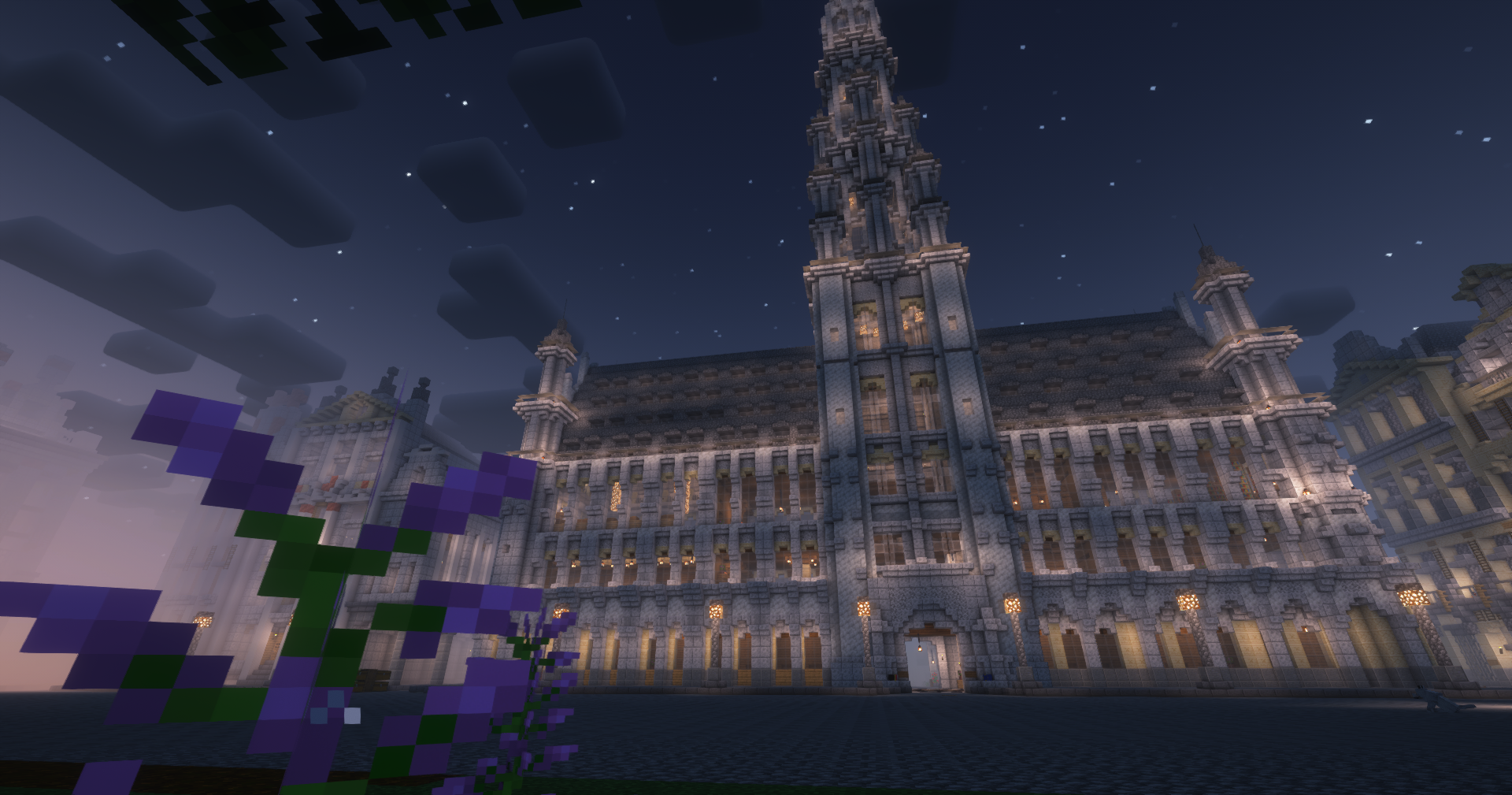 Towny is the land management plugin used on Nations. In this tutorial, we learn how to:
create a town
claim land
invite residents
manage plot permissions
This is a shortened version of the full Towny tutorial.
If you've never used Towny before, here's an overview of how it works.
The Minecraft world is divided in 16x16 sections called chunks. Chunks are sometimes called townblocks.
Most chunks are unclaimed. Unclaimed chunks are called the Wilderness, where griefing, PvP and theft is allowed.
Players can create settlements called towns to claim chunks.
Claimed chunks (also called plots) protect players from PvP, griefing and theft.
Plots can be designated as certain types, allowing you to set up shopping districts and more.
The owner of a town can invite other players to it to become residents. The more residents a town has, the more chunks it can claim.
Permissions control who can access each plot in the town.
Towns can create and join nations. A nation is a collection of towns with one town as its capital.
The leader of the capital town is the leader of the nation.
A nation can form alliances with other nations and can also declare war on enemy nations.
There are multiple benefits to being a member of a nation, including getting extra chunks to claim with.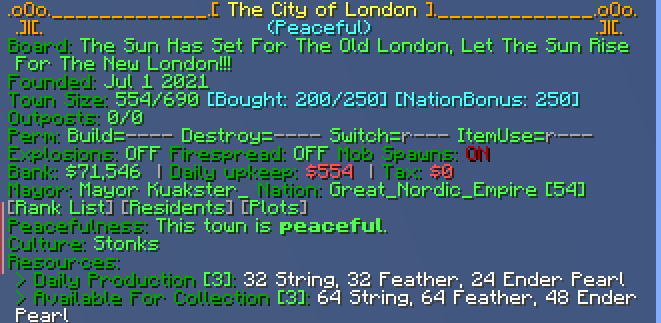 To create your own town, you first need to earn enough money. The cost of creating a town is shown in /towny prices.
After collecting enough money, stand in the chunk where you want the first chunk of your town to be. You can see the border of the chunk you're standing in using the command /resident toggle constantplotborder.
Afterwards, type /t new <name of your town>. This will create a new town with you as its mayor (leader). This chunk will become your town's first claim and homeblock, and you'll respawn here if you die. You can move the spawn point within the homeblock using /t set spawn. Later, you can move the homeblock to another claimed chunk using /t set homeblock.
You can type /t to view important information about your town. This command will come in handy later, so keep it in mind.
The /town menu is a GUI that helps you manage your town. If all the commands below look scary, give it a try!
Your town's bank stores money that is used to pay for the costs associated with running your town. To deposit money in the town bank, stand in your homeblock and type /t deposit <amount of money to deposit>. You can withdraw money using /t withdraw <amount of money to deposit>.
Chunks that are claimed by your town (called plots) are protected from PvP, griefing and theft. To claim an unclaimed chunk for your town, stand inside it and type /t claim. This will cost $9, which is taken from your town bank. You can only claim chunks that are directly adjacent to a chunk that you have already claimed. You can see a map of nearby chunks and whether they are claimed using /towny map.
You can claim 10 chunks to begin with. This number can be increased by:
inviting people to your town
joining a nation
buying extra claims with /t buy bonus
The /t information screen shows the maximum number of chunks that you can claim, and how many you have already claimed.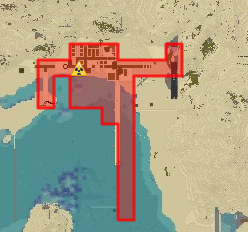 Every 24 hours in real life, the server collects a tax called upkeep from the bank of every town. The amount of upkeep that your town pays depends on how many chunks it has claimed: every claimed chunk will add $1 to upkeep. You can see how much upkeep you have to pay from the /t information screen.
If your town bank does not have enough money to pay for upkeep, the town will become a ruin that can be griefed and stolen from. You can reclaim a ruined town using /t reclaim, but it's best to avoid becoming one in the first place. Ruined towns are deleted after 72 hours if they are not reclaimed.
You can invite players to become residents (members) of your town by typing /t add <name of player>. The player can accept the invite by typing /accept <name of your town>. If you've invited somebody by accident or need to re-send them an invite, type /t add -<name of player> to withdraw their current invite. And if you decide that you no longer want a resident in your town, you can kick them using /t kick <resident>.
Communicate with your residents using the town chat channel, which is toggled through /tc. To return to global chat, type /g.
You can earn $4,000 per active new resident you invite! Just type /recruitbonus <name of resident> to see if the resident qualifies for a recruitment payment.
You may soon find your new town occupied against your wishes. Don't panic! Read the occupation article to find out why and how to remove this.
¶ Town and Plot Permissions
As you may remember, plots are chunks that have been claimed by a town. Access to plots can be managed to a great degree, allowing you to designate houses and estates for your residents.
By default, residents cannot do anything in your town. You can give a resident a plot by standing inside it and typing /plot forsale <optional cost to claim>. The resident can then claim the plot by typing /plot claim; they will become its owner and have full access to it. The cost of claiming a plot is paid to the town bank.
You can control who can interact with plots by managing their permissions. Permissions can be changed for different groups.
To change the permissions for a specific plot that you own, use the command /plot set perm <group> <permission> [on/off] while standing inside it.
If you want to edit permissions for all of your owned plots, use /resident set perm instead.
Town mayors can edit permissions for all unowned plots in the town in the same way using /t set perm.
| Group Name | Who |
| --- | --- |
| friend | Players on the plot owner's friend list. You can edit your friend list with /res friend |
| resident | All residents of the town |
| nation | All members of the town's nation |
| ally | All members of the town's nation and its allied nations |
| outsider | Everyone on the server. |
If no group name is given in the command, permissions for all groups will be modified.
| Permission Type | Controls |
| --- | --- |
| build | placement of blocks |
| destroy | breaking of blocks |
| switch | usage of blocks listed in /towny switches, such as chests, dispensers and doors |
| itemuse | usage of items and entities listed in /towny itemuse, such as minecarts and buckets |
If no permission type is given in the command, all permission types will be modified.
/plot set perm friend build on - enables build permissions for your friends in your plot
/plot set perm nation on - enables all permissions for nation members in your plot
/plot set perm off - disables all permissions for all groups in your plot
/resident set perm ally switch on - enables switch permissions for allied players in all your owned plots
/t set perm resident switch on - enables switch permissions for all residents in all unowned plots in the town
If you want to give a specific player full access to your plot/town, you can add them to its trust list.
To manage a town's trust list, use /t trust <add|remove> <name>.

Be careful as this will give the player complete access to the town (as if they were the mayor!)

To manage your plot's trust list, use /plot trust <add|remove> <name>.
Plots can be of various types, all of which have their own function. These allow you to create shopping districts, PvP arenas, communal farms and more.
| Type | Description/Purpose |
| --- | --- |
| Default | All plots begin as default plots, which have no special properties. |
| Shop | Player shops can be created in these plots. |
| Arena | PvP is enabled in these plots, and players who die inside them will not drop items. |
| Bank | /t deposit and /t withdraw can be used from these plots. |
| Farm | Players can only break and place plants and crops in these plots. See /towny allowedblocks for a full list. |
| Embassy | These plots be claimed by non-residents. They can be combined with shop plots to let outsiders create shops in your town. |
| Jail | Can host jail cells, which residents will be sent to when imprisoned. See the Jail Guide for more information. |
To change a plot's type, stand inside it and type /plot set <plot type>. To revert it back to a default plot, type /plot set reset.
Plots can be given a name using /plot set name <name of plot>, which is shown when entering it.
Besides land usage, mayors can control other aspects of their town, such as taxation and resident ranks.
What fun is running a town without extracting money from your residents? Towny allows you to reap the rewards of your resident's hard work by letting you collect taxes.
Town taxes are collected from all residents and deposited in the town bank. It has two modes: percentage (the default) and flat. Flat taxes collect a set amount of money from residents every 24 hours. If they cannot pay this sum, they are kicked from the town. Percentage taxes, on the other hand, collect a percentage of residents' balances instead. If a resident has no money, they do not pay any money in tax and are not kicked from the town.
Taxes are set using /t set taxes <flat amount/percentage>. Type /t toggle taxpercent to toggle percentage mode.
Residents can be taxed based on the number of plots they own too. If a resident cannot pay a plot tax, they lose ownership of the plot.
/town set plottax <amount> – Set the tax collected from each resident daily, per plot that they own.
/town set shoptax <amount> – Set the tax collected from each resident daily, per shop plot that they own.
/town set embassytax <amount> – Set the tax collected from each player, per embassy plot that they own.
Residents can be assigned a diverse set of ranks using /t rank add <resident name> <rank name>. Each rank empowers them with extra abilities inside the town.
Rank Name
Abilities
comayor
Equivalent to Mayor, but cannot delete the town.
assistant

Can:

invite new residents
claim land
imprison residents
have all permissions in unowned plots

Also has the abilities of the builder and recruiter ranks.

builder
Can build in all unowned plots.
recruiter
Can invite new residents and use /plot forsale to give them plots.
helper
Same as recruiter, but can kick residents too.
police
Can designate players outlaws, manage jails in jail plots and imprison and free residents.
taxfree
Exempt from paying town taxes.