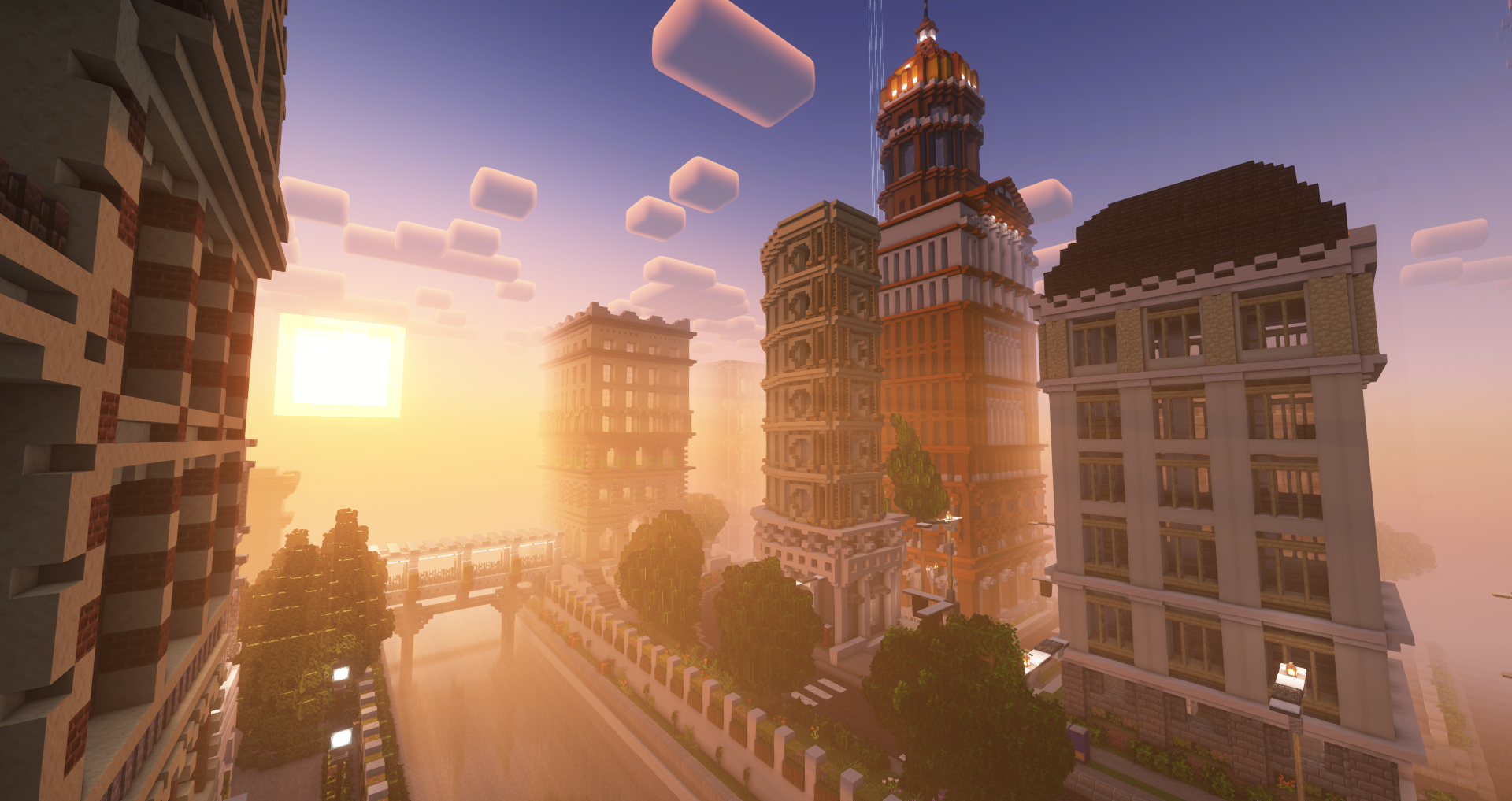 A small district of Celle on Nations. This vast Victorian-style city took one year to build and is considered by many to be the best on the server. Can you create a city that will stand the test of time?
Nations is a geopolitical sandbox server set on a 1:1000 scale map of Earth.
Build towns and form a nation whilst engaging in diplomacy and war with others.
Use guns, artillery and vehicles to attack enemy towns in sieges that can involve dozens of players.
Design working battleships, tanks and aircraft to bring into battle.
And if you don't like conflict, experiment with brewing dozens of custom drinks, decorate your town with furniture or express your creative side using our map painting and music plugins.
Whether you're a builder, soldier, leader or just looking to chill, there's a place for everyone in Nations.
Read the guide and still have a question? Join our Discord and ask in the #questions channel!
You will begin at spawn, where there are NPCs you can right-click to teleport to Earth.
You cannot return to spawn once you have left, so choose where you want to go carefully!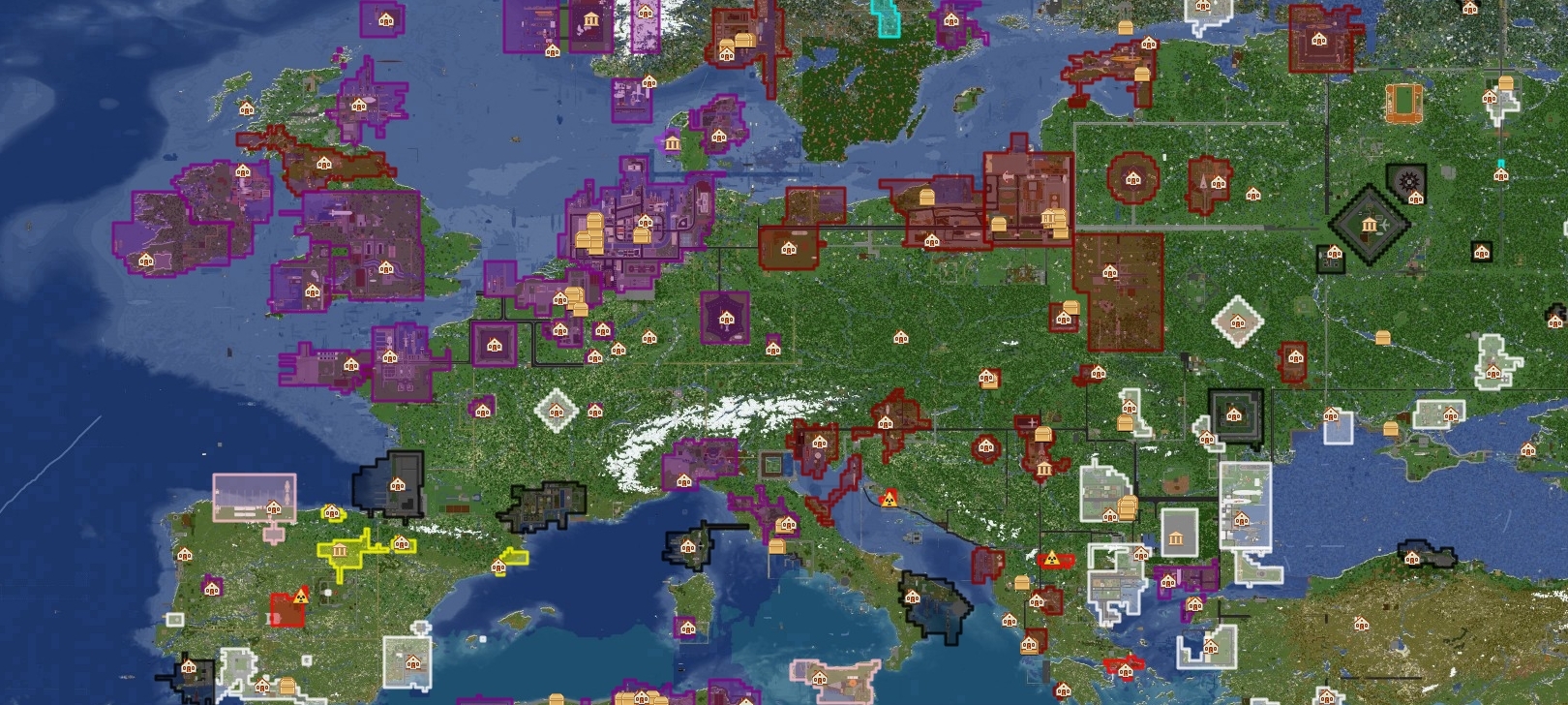 The map (/map) shows towns, shops, wars and other players.
You can hide yourself from the map by holding a gun, sword or axe in your main hand and a compass on your offhand.
You will spawn with a link to the resource pack, also accessible through /resourcepack.
Download it to see and hear guns, artillery and custom items.
"Teleportation is 🦀!!! Now how the hell can I play multiplayer??!!1!"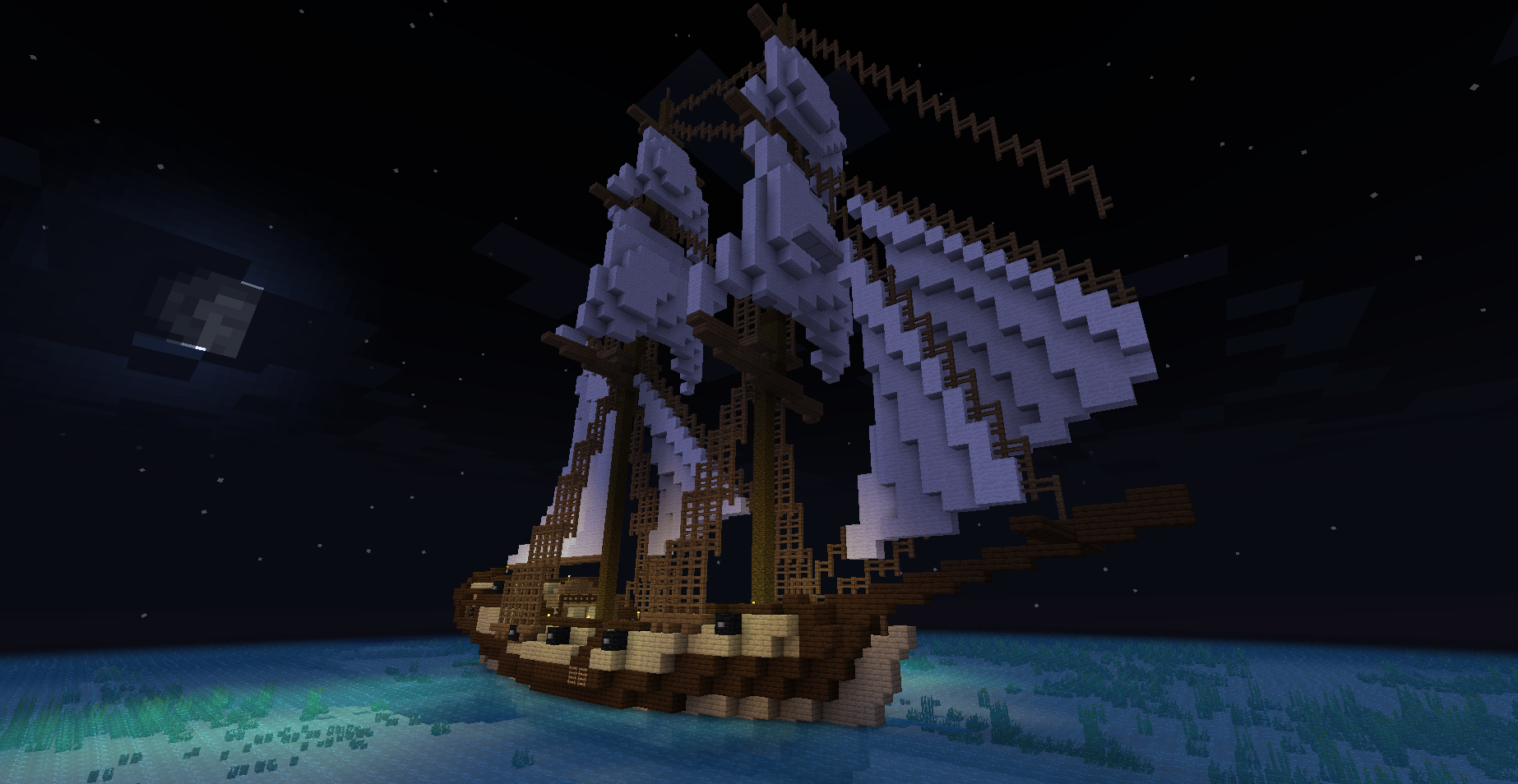 Teleportation is very limited on Nations, but that doesn't mean you're doomed!
As a new player, you have one global /tpa request that lets you teleport to anyone in the world - don't waste it!

After using this, your /tpa requests will have a range of 200 blocks.

On Nations, we use a plugin called Movecraft that lets you build battleships, cargo ships, airships and more. These are useful for long-distance travel, and we will look at them later on.
The world border can be crossed on both Movecraft vehicles and foot. For example, you can travel from North America to Japan by crossing the Pacific world border.
¶ Part 2: Towns, Nations and Peacefulness
¶ Claiming Land - Towns
See also: How to create a town
Settlements on Nations are called towns. Towns claim land to protect them from PvP and griefing.
Every town has a mayor (leader) and residents (people who live in the town).
Towns claim 16x16 block parts of the world known as chunks or "townblocks", protecting them from PvP and griefing.
Towns can be peaceful (cannot be attacked) and non-peaceful (can be attacked).

Peaceful towns have some restrictions compared to non-peaceful towns.

To view information about a town, type /t <town name>, like /town London.
See also: How to create a nation
Towns can band together to form nations. Nations are similar to countries in real life.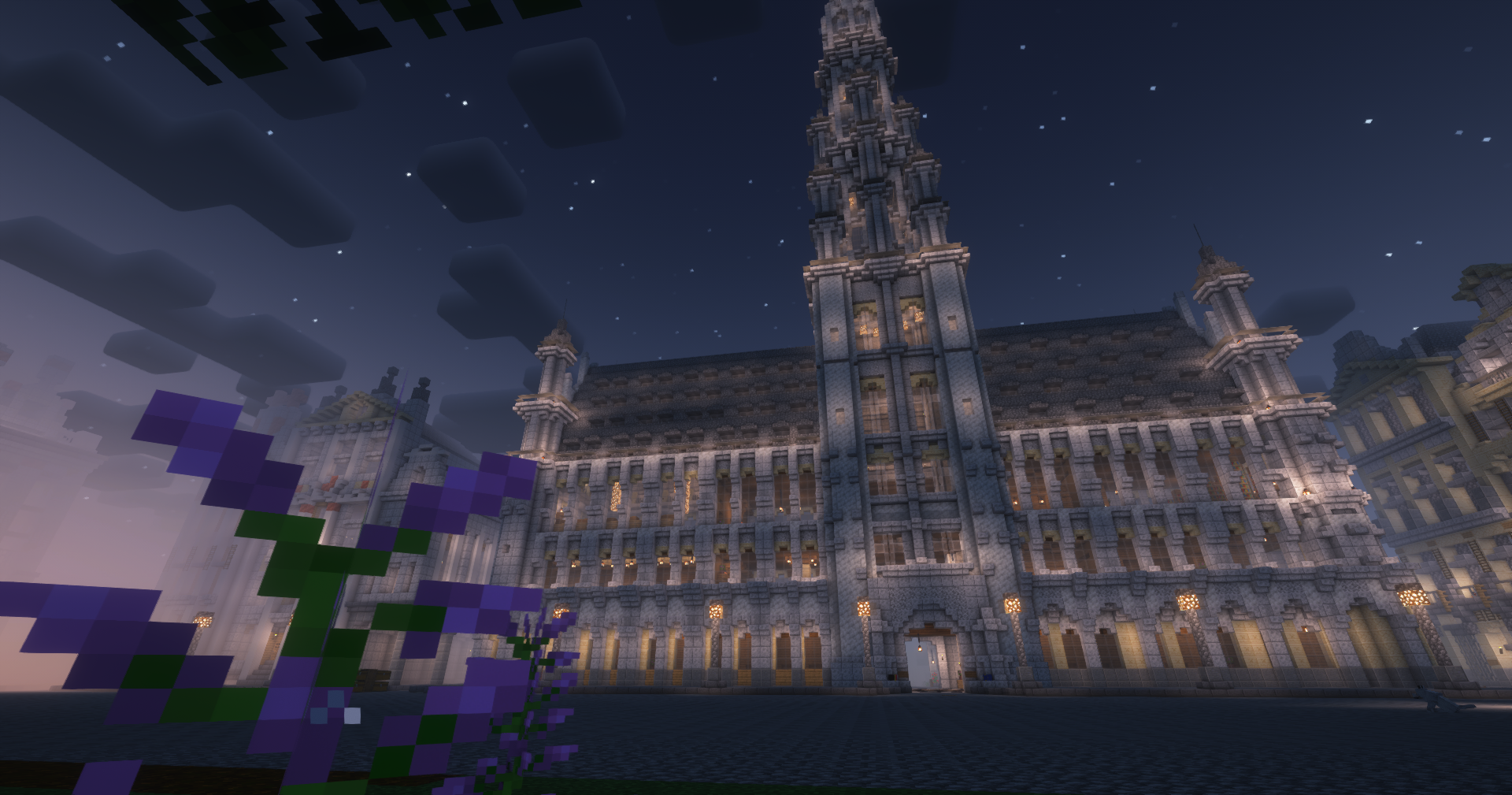 Nations are made from towns, and one town is the capital city.
The mayor of the capital city is the nation's leader.
Nations can declare enemies, strike alliances and attack towns belonging to enemy nations during sieges.
Why join a nation? Here are some reasons:
Nations give their towns more claimable chunks.

This is called the nation claim bonus, and it increases as the nation grows larger.

Members and allies of a nation cannot attack each other.
Nations will usually help you out and even fund your town.
To view information about a nation, type /n <nation name>.
¶ Joining and Creating Towns
Most of you are probably eager to create a town! If you think you're up to the challenge, watch this tutorial video or have a read of our Towny Tutorial!
After creating a town, you may be interested in starting a nation. But beware, as this can be a daunting and difficult task!
To join a town, ask someone to invite you and then type /accept <town name> once you receive the invitation in chat.
¶ Peaceful and Non-Peaceful Towns
Main article: Town Peacefulness and Occupation
There are two types of towns: peaceful towns and non-peaceful towns.
All towns begin as peaceful towns which cannot be attacked but have some restrictions:
They cannot use spawners.
They cannot brew some important PvP potions, like health, strength, fire resistance and swiftness.
They cannot create nations.
Non-peaceful towns do not have the restrictions of peaceful towns but can be attacked.
All nations need at least one non-peaceful town to exist.
Peaceful towns can only join a nation if they're within 4,000 blocks of one of its non-peaceful towns.
To switch between being peaceful and non-peaceful, type /t toggle peaceful. This process takes a few days. You can see the time remaining by typing /t <name of town>.
Main article: The Economy
Money can be earned through several ways:
/vote - Each vote gives you a vote crate, along with one token. Tokens can be spent in the /voteshop.
Convert Gold Ingots into cash by using /bank. 1 Gold Ingot = $9.
Trading with other players through player-run shops (/market search), the Global Market (/ah) and contracts.
Inviting new players to your town. /recruitbonus
Once you are geared enough, collecting bounties.
The economy of Nations is player-driven with an intricate network of hundreds of player-run shops trading various items. These can be found on the map or through our custom /market plugin, which also provides useful economic data such as the average price of items and how many are being sold throughout the server.
The Global Market allows goods to be bought and sold internationally. While the Global Market can be viewed from anywhere using /ah, you can only trade on it from shop plots in nation capitals. You can earn more sell slots on the Global Market by ranking up.
Main article: Resource Extraction

You can discover resources at your town, which will be produced daily. Certain resources can only be found at towns that are in the right biomes - for example, Oil can only be found in towns located in desert biomes. If you are in a nation or occupied by one, the nation will take a share of your daily production.
Main article: Slimefun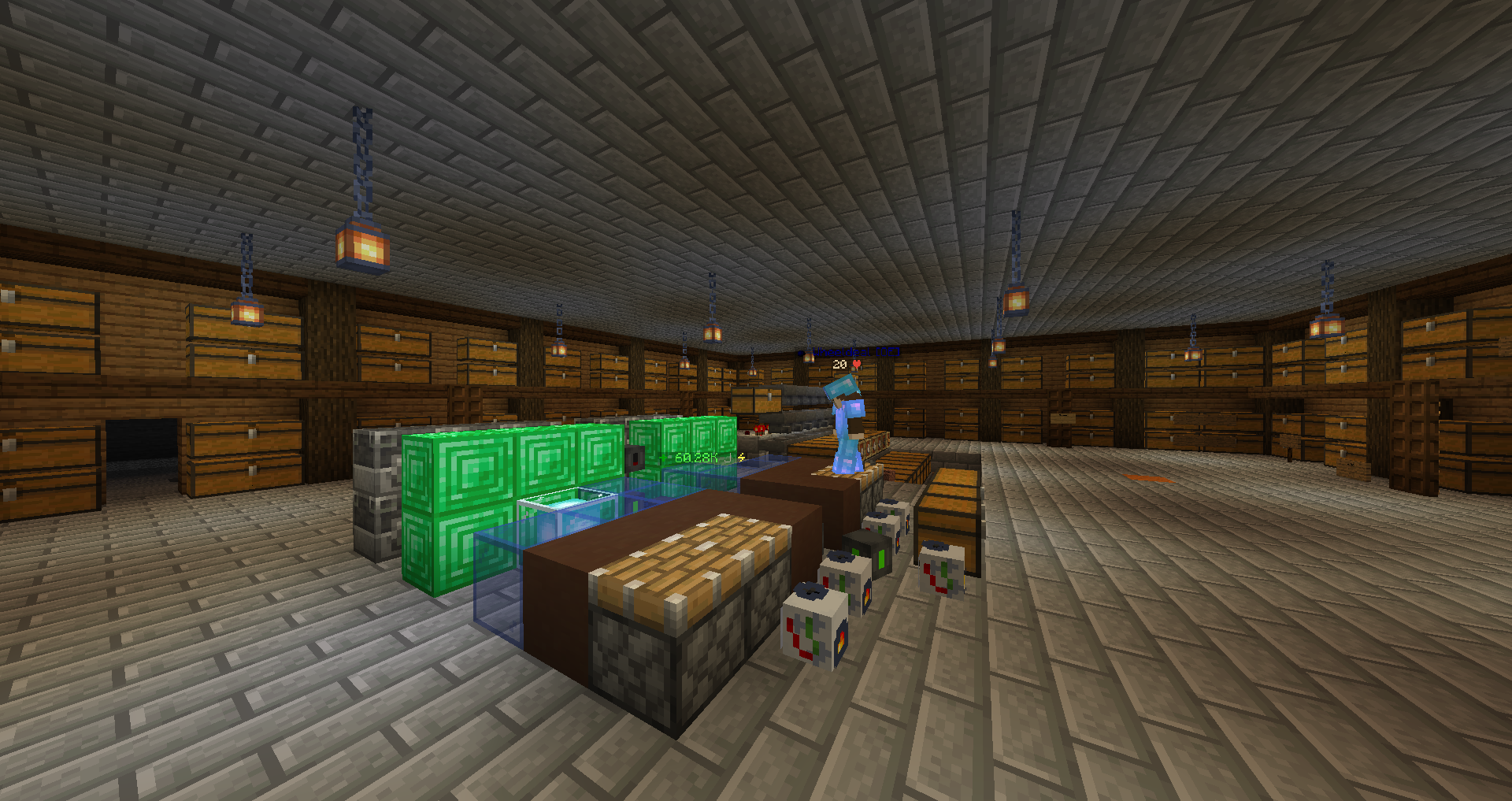 By now, you may have created or joined a town and are wondering what to do next. Getting involved with industry can be a difficult but rewarding process that will allow you to create and work machines, useful for day-to-day tasks or bigger-scale production.
All recipes for Slimefun can be viewed through the Slimefun Guide. You should have spawned with one, but in case you have lost the book, type /sf book to obtain it again (or open it without obtaining a book, through /sf guide).
There are many machines, each with a distinct use, but here is a selection you may want to make:
The Runic Anvil is a Slimefun machine that allows you to obtain Netherite and apply Runes to tools and armour.
Runes are powerful modifications to gear (tools, weapons, and armor) that can help you in combat and resource-gathering, and have high utility value. They are usually very sought-after for their effects.
Main article: Movecraft Tutorial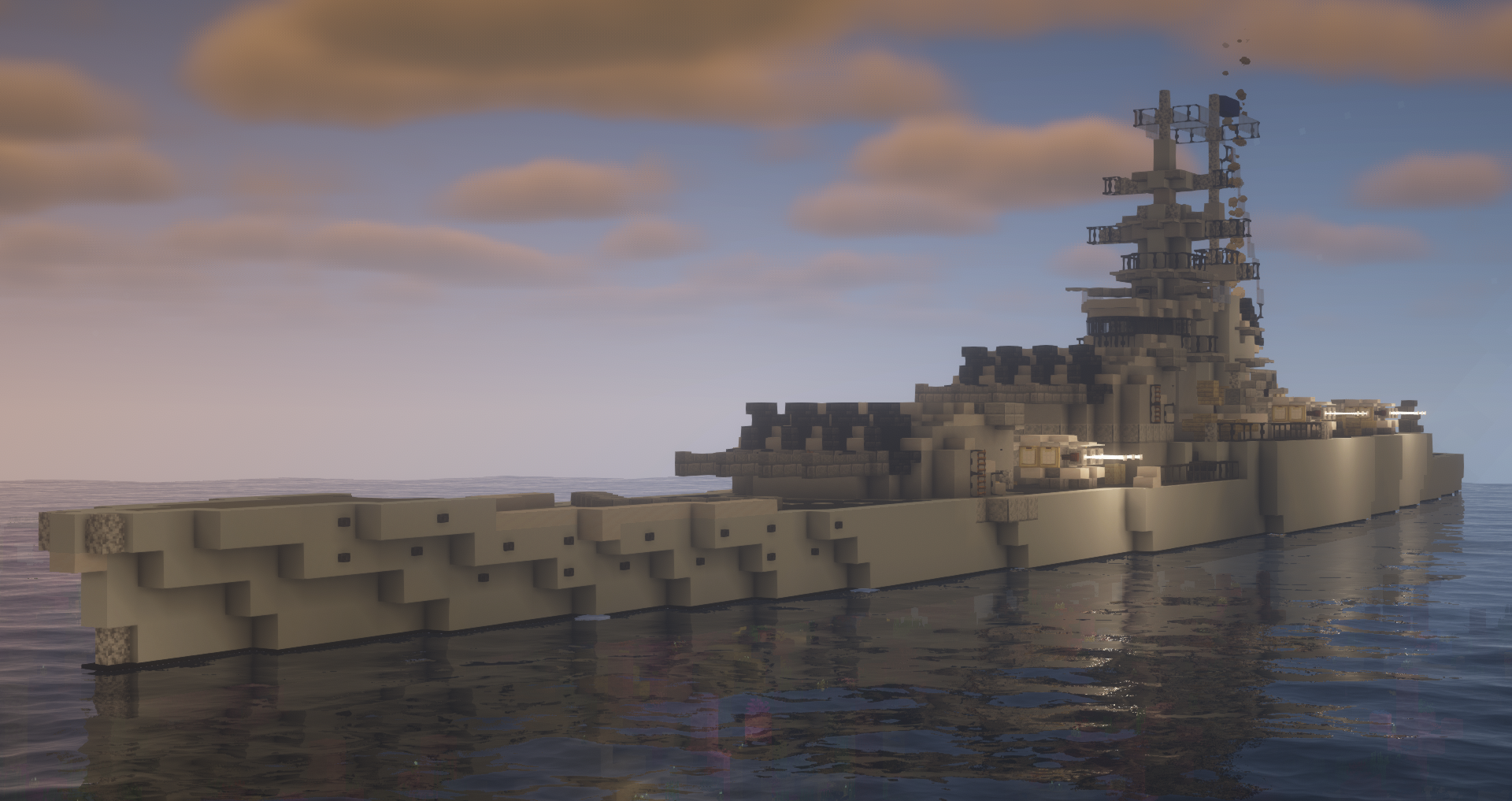 Watch: A battle between two dreadnoughts!
Movecraft is a plugin used on Nations to create over 20 types of naval, ground and aerial vehicles called 'crafts'. Each craft type fulfills a specific role: some are used for trading, while others can be armed with guns to demolish forts and other craft.
Craft are designed and built by you, block by block. As long as they meet the block requirements for their craft type, you have complete control over how they are constructed.
Shipbuilding is a popular profession, and well-built ships are always in demand. For maritime nations, a powerful fleet is vital for trading and projecting their power across the world. For landlocked nations, ground and aerial vehicles can be used to quickly move people and cargo, and are essential for assaulting enemy forts.
Does that sound interesting? Click here for a tutorial on how to use Movecraft.
Main article: Naval Sieges
Aircraft Carriers, Destroyers, and Dreadnoughts can fight in Naval Sieges. A Naval Siege begins when someone enters and attempts to take control of a Naval Siege Region.
Naval Siege Regions reward their owner with money daily. Some also grant the owner access to build and destroy strategic naval chokepoints (e.g. the Suez Canal), who can then choose to open and close them. But be wary, as these chokepoints are fiercely contested by the largest navies!
¶ Part 6: Guns, Cannons and Combat
There are many elements to Nations combat:
Potion Melee PvP
Guns
Cannons
Horses
Movecraft vehicles: tanks, aircraft and more
These are explained more below, but if you are interested in seeing all of these in action, check out our team PvP arenas in /server pvp!
Main article: Cannons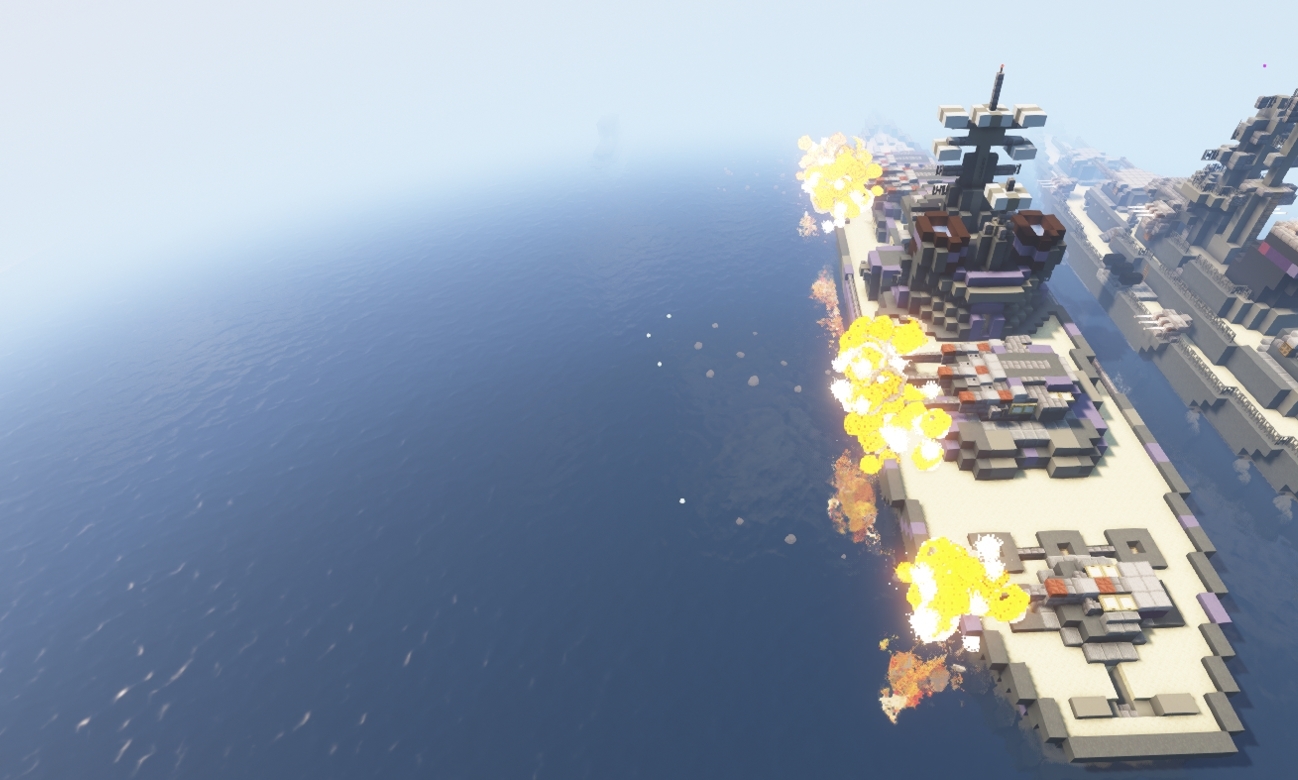 Cannons serve as the main armament of Movecraft vehicles and can also be fired from Non-Peaceful towns to assist in their defense.
Cannons can fire different projectiles, each dealing a unique effect. For example, Incendiary Shells will ignite their area of impact, while Armour-Piercing Shells can penetrate multiple blocks before exploding.
Of course, Cannons can be used against Non-Peaceful towns just as they can help defend them. Fortunately, there are blocks that can absorb multiple hits from cannon projectiles before breaking. Click here for the list and more details on them.
Main article/section: PvP Combat: Guns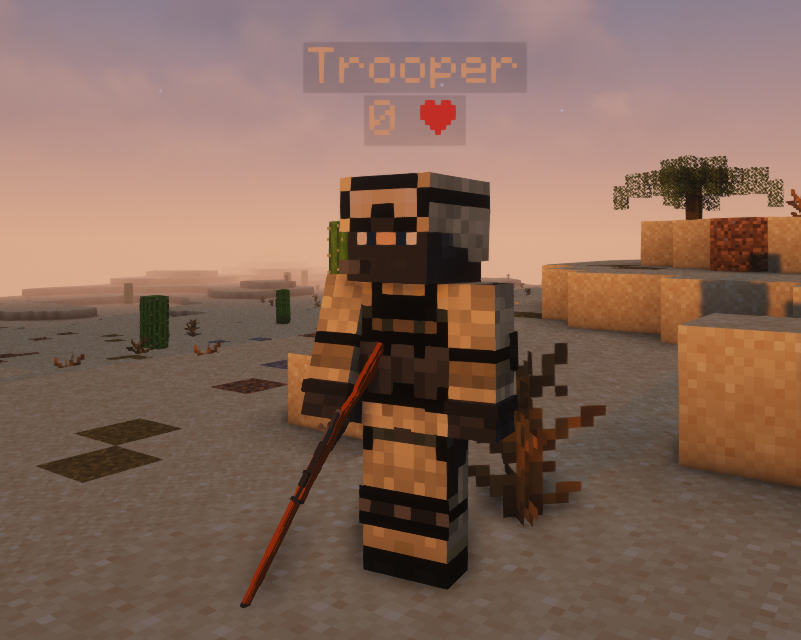 There are four classes of guns on Nations:
Rifles are accurate, high-damage guns with low ammunition capacities and fire rates.
Carbines are variants of rifles that can be fired from horseback and have a bayonet for melee combat.
Machine guns are rapid-fire, low damage support weapons. They give enemies the Suppression debuff, which increases the damage they take from all guns.
Sidearms are smaller, mobile weapons with average damage and fire rate, used in close combat.
All Gun classes are most effective when used together. For example, a team of one machine gunner and one rifleman will inflict more damage than two riflemen, due to the Suppression effect.
Guns can be crafted through /guns and ammunition through /ammo.
Main article: PvP Combat
Cavalry can now play a role in battle! Damage dealt while on horseback has been increased, along with the protection that craftable horse armor gives. The damage boost from being on horseback depends on how fast your horse is moving, so always try to stay on the move.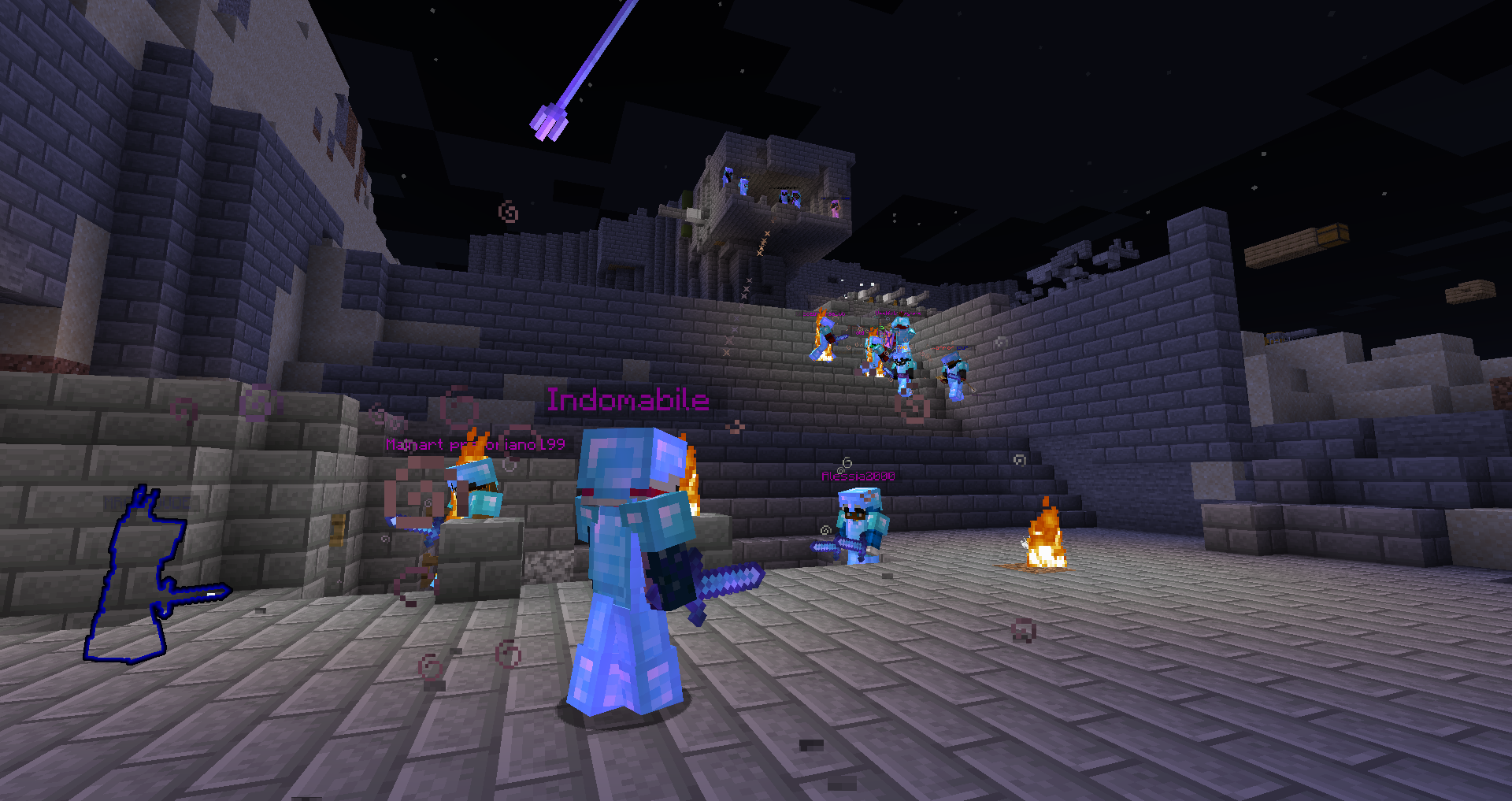 Ender Pearls, Golden Apples, Enchanted Golden Apples are disabled.
Infinity, Mending, Riptide are disabled.
Netherite Armor is the same as Diamond Armor, except in durability. Netherite Swords and Axes function normally as in Vanilla.

Netherite cannot be obtained through Ancient Debris/Netherite Scraps. Instead, you must use the Runes system.
Netherite Axe crafting is disabled until further notice.
Players are also granted invulnerability from player damage for 10 seconds after respawning (this invulnerability is cancelled if initiating combat with other players or teleporting to another player).
Main article: Sieges, Peaceful Towns, Non-Peaceful Towns and Occupation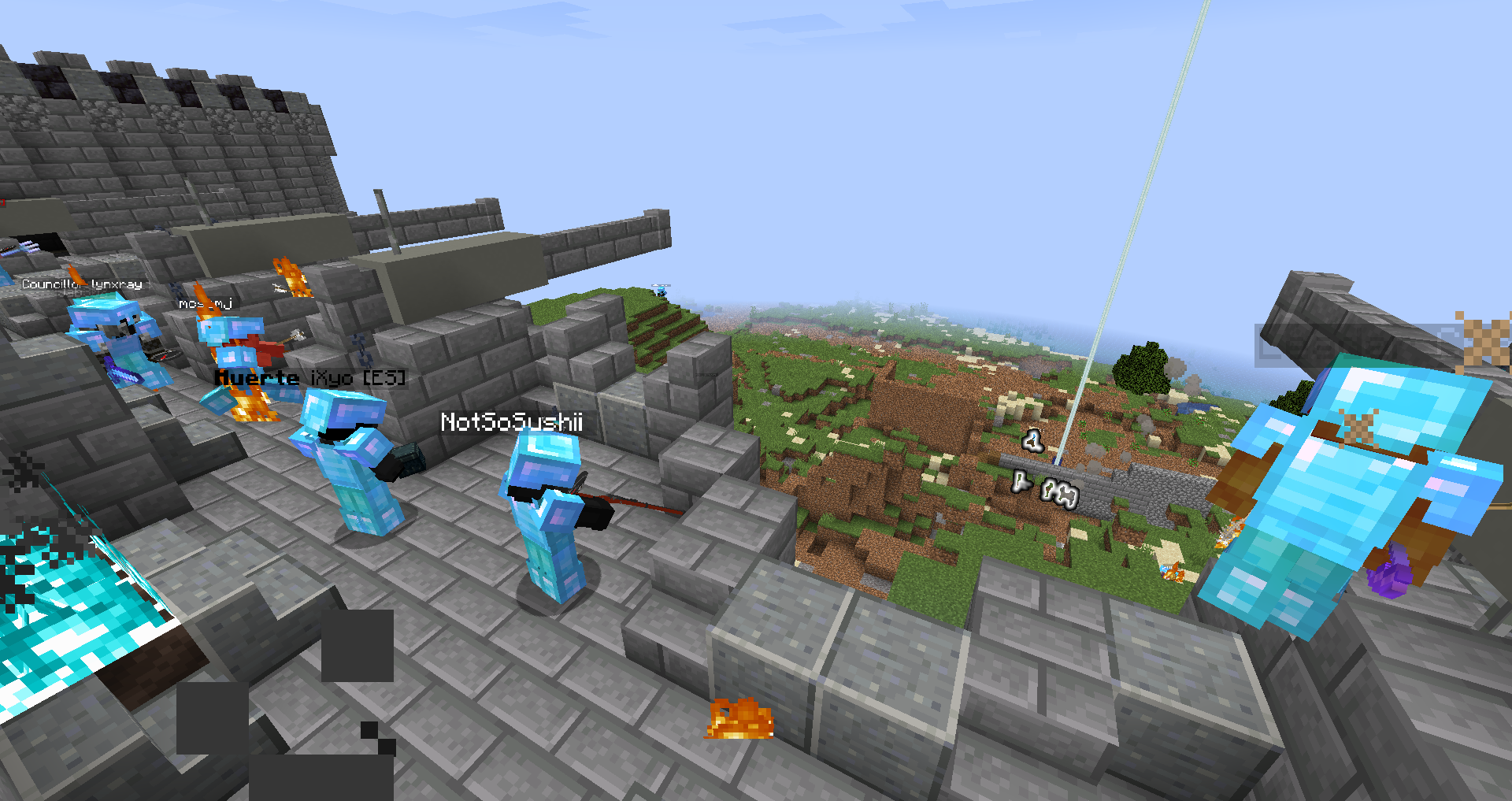 A siege starts when a nation attacks a Non-Peaceful town by placing a banner outside of it. A siege can last up to three real-life days, unless the attackers abandon it or the defending town surrenders.
To win a siege, your side must earn more siege points than the other side. Sieges are divided into battle sessions that start every 2 hours (announced in chat) and last for 90 minutes. During a battle session, you can earn points by killing enemies in the siege zone and holding the ground near the placed banner, in order to capture it.
War is expensive! Sieges cost money to start. The cost of starting a siege is called the war chest and is awarded to the victorious side at the end of the siege. If the attackers win a siege, they can choose to occupy the defending town and plunder money from its town bank. After a siege ends, the defending town gains siege immunity for some time, which prevents them from being attacked again.
Explosions are enabled in the defending town when defenders are nearby. For this reason, Non-Peaceful towns might want to invest in defenses built from blocks that have Custom Durability, as they can absorb many hits from explosions before breaking. Before you worry about your builds being razed to the ground, don't worry - most explosion damage from sieges is automatically fixed once it ends, although chests and Custom Durability blocks will not be restored.
So, what are you waiting for? Nations is waiting for you, your troops, your town, and your story!