Nations' economy is based on the Gold Standard.
Gold Ingots and Silver Ingots are exchanged with money in Bank plots using /bank . All Outposts have a bank plot. Towns are able to set a town plot as a Bank plot using /plot set bank.
$9 per Gold Ingot.
$4.5 per Silver Ingot.
Gold is obtainable from Gold Ore, or Nether Gold Ore (drops 1 Gold Nugget).

Silver Ingots are obtainable from Slimefun.
To transfer money from your balance to the balance of another player, use /pay (name of player). You can enable or disable other players being able to use this to pay you by typing /paytoggle (enable/disable). Also, you can enable or disable confirmation messages when using this to pay other players, by typing /payconfirmtoggle.
Player shops are chests and barrels that are set up to automatically buy and sell items on behalf of a player.
You can search for player shops through the map or using our custom /market interface.
Click here for more information on how to create and find playershops.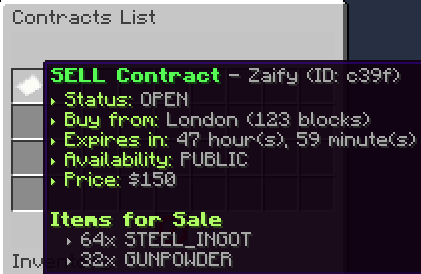 Contracts are a custom feature to Nations that allow you to create server-enforced buy and sell agreements. Buy contracts allow you to request the delivery of items to your town in exchange for money, while Sell contracts allow you to sell item(s) at a specified price.
Click here for more information on how to create, find and complete contracts.
The Global Market is a menu used for fast and easy global trading. All players can view the items currently being sold through the /ah menu, but can only buy and sell items while standing in a shop plot of a nation's capital town.
Click here for more information on trading in the Global Market and its various functionalities.
¶ Wealth Command

The wealth command allows you to see the total balance of a town/nation and a breakdown of its sources. Use it by typing /wealth [town/nation] <name of town/nation>.
You can view the wealthiest towns and nations using /wealth top [town/nation] [total/per_capita].
You can view the market price of an item using the value command: /value <item> <amount>. The value command uses data from past transactions through player shops and the Global Market.

The command will display three prices: the mean, median and mode.
It will also show the quantity and total value of the item traded over the past 30 days.

You can view the top traded items (measured by either total quantity or value traded) using /toptraded [quantity/value] [time period to use data from, in days] [optional page number].

For example, to view the top traded items by quantity over the past 7 days, type /toptraded quantity 7.

Towns can discover resources that will be automatically extracted every 24 hours. Resources are discovered by conducting surveys. Each successive survey performed on a town uncovers a higher level resource. Higher level resources will produce more items. If a town is in a nation or occupied, its nation or occupying nation will take 50% of its daily production.
Click here for more information on how discovering and extracting resources work.
Gold is not affected by the Luck multiplier of Slimefun's Enhanced Furnaces when smelting.
Gold Ore in the Nether always drops 1 Gold Nugget.
Villagers, Zombie Villagers, Wandering Traders, and villages and pillager outposts are disabled in Nations.
Anyone with the ability to change nation taxes can set a wealth tax for their nation. Wealth tax takes a percentage of the money held by the nation's residents, every Towny day.
Wealth tax is set by typing /n set wealthtax (percentage). The maximum wealth tax rate is 0.5%.
For example, if a resident has $1,000 in their balance and their nation's wealth tax is 0.5%, they will pay 0.5% of $1,000 ($5) in wealth taxes to the nation.
Wealth tax is collected from:
residents of unoccupied towns in the nation
residents of foreign towns that the nation occupies
Mayors can set a sales tax that is levied on purchases made from player shops that are inside their town. Set it by typing /t set salestax (percentage). The maximum sales tax is 10%.
For example, if sales tax is 10% and someone makes a $1,000 purchase from a player shop inside the town, the seller will receive $900 and $100 will be deposited in the town bank.
Mayors of capital towns within a nation can enable and set a transaction tax for Global Market (/ah) purchases made from within their town. Set it by typing /t set transactiontax (percentage). The maximum transaction tax is 25%.
The transaction tax increases the price of items for all purchases made within your town, by a percentage of the items' selling price. When items are bought, the transaction tax is deposited straight to your town bank, while the original seller receives the normal money that they sold the item for in the first place.