Below you will find a list of elements of custom Towny mechanics in Nations along with their description.
Main article: Vassals
A vassal nation is a nation that has chosen to be subordinate to another nation, called the overlord nation. Vassals receive protection and bonus claims from their overlord nation, but sacrifice some of their independence in return.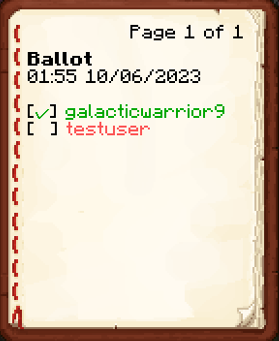 Main article: Elections
Towns and nations can hold elections for any town/nation rank. If desired, voting and candidacy can be restricted to residents holding special Voter and Politician ranks.
Nations can place embargoes on other nations to severely limit trade between them.
When a nation is under an embargo from another, all Global Market, Player Shop and /pay transactions between their residents are forbidden.
Nation leaders, co-leaders and diplomats can place and remove embargoes using /n embargo [add/remove]. To check the list of a nation's embargoes, use /n embargolist.
Embargoes cannot be placed on allied nations. When nations become allies, any existing embargoes between the two are lifted.
Town types are visible (and in the future, functional) badges and titles to towns that allow nations and towns to use, categorize, and represent their important towns in a meaningful and more immersive manner. The town's icon on the Dynamic map also changes based on the town type.
They can be applied by nation members with the Leader, Co-Leader, and Chancellor nation ranks to any town within the nation, by using /n set (town name) (town type). The number of non-default town types a nation can have is limited by the number of people in the nation.
The available town types are:
Military (shield icon)
Industrial (factory icon)
Commercial (coins icon)
Developed (apartment building icon)
Port (anchor icon)
"Reset" (removes the town's town type)
Secession allows a group of towns to leave a nation and create their own, taking some of their old nation's towns with them.
Secession from a nation can be led by any of its non-peaceful towns. The mayor of a non-peaceful town can invite other mayors to secede with them using the /secession invite command. The existence and members of the secessionist conspiracy is kept secret and cannot be seen by the nation leader.
When ready, the non-peaceful town leading the secessionists can secede using the /secession secede <name of new nation>. This will create a new nation that includes all the secessionist towns, with the leading non-peaceful town as the capital. Any peaceful town in the old nation whose closest non-peaceful town joined the secessionist movement will also join the new nation.
The activity and influence of towns themselves have server-set caps.

Towns within the same nation cannot be located more than 10,000 blocks away from the nation's capital town. In addition, if your town is Peaceful, it must be located within 4,000 blocks of a Non-Peaceful Town that is part of your nation.
A siege can only be started against towns within 12,000 blocks away from your nation's capital town.
Distances here are calculated between the towns' homeblocks.

Town outposts are disabled.

The minimum distance between any two towns is 4 chunks; however, this only applies to towns in different nations.
After the money in the town bank of a town with the Town tier or higher, or Homestead tier, reaches 0 (due to upkeep/nation taxes/plundering) it will enter bankruptcy mode. This means that in order to enter bankruptcy mode, the town must be of tier Town or higher, or Homestead tier; towns of lesser tiers will enter ruin mode immediately instead.
The town's bank will keep going below 0 as money is taken from it due to upkeep or nation taxes. The town bank's value below 0 during bankruptcy mode is called its debt. The debt limit or debt cap is the maximum possible debt that a town under bankruptcy mode may have before falling, and it is calculated by the number of claims that the town owns. The debt cap is visible in the town information screen. Towns of the Homestead tier have a tiny debt cap, while higher tier towns will have a larger debt cap depending on their tier.
During bankruptcy mode, a town faces a few restrictions.
The town cannot claim more chunks from Wilderness.
More residents cannot be added to the town.
No resident, including the Mayor, has build permissions inside the town's claims. Any other permissions are unchanged, however.
To exit bankruptcy mode, enough money to remove the debt must be deposited in the town bank (/t deposit). When the town bank goes above 0, the town will be restored with all of its residents. If the debt reaches a maximum point, however (which depends on the overall cost of a town's claimed and bought town plots) then the town will go into ruin mode.
Click here for the list of town tiers in Nations.

Cultures add an optional cultural element to Nations.
Mayors can set a culture for their town using /town set culture (culture name). A town's culture is displayed on its town information screen ( /t ). A nation can be comprised of multiple cultures—the nation's cultural composition (the cultures that the nation is made up of) is displayed on its nation information screen ( /n ).
Players in towns of same culture can chat in a separate, private channel by typing /cc.

TRADE channel /trd : For international trading purposes.
DIPLOMATIC channel /dip : For diplomatic relations, accessible by players who have the following ranks: Leader, Coleader, Chancellor, and Diplomat.
INTERNATIONAL channel /int : General chat for languages other than English. All other chat rules apply.