Hello, welcome to Towny, one of the oldest, casual, expandable survival-multiplayer roleplay game-modes!
Towny in its pure form is about land protection, running towns, and growing your land, empire, and community. It is a versatile, expandable gamemode, and many elements, features, as well as players, may come together to form a complete experience. CCNet uses the aptly and identically-named Towny plugin, which allows for a complete town and nation management simulation. The main subject of Towny is the economy and the community—featuring Slimefun, Movecraft, and much more, based on a 50,000 x 50,000 block Vanilla map!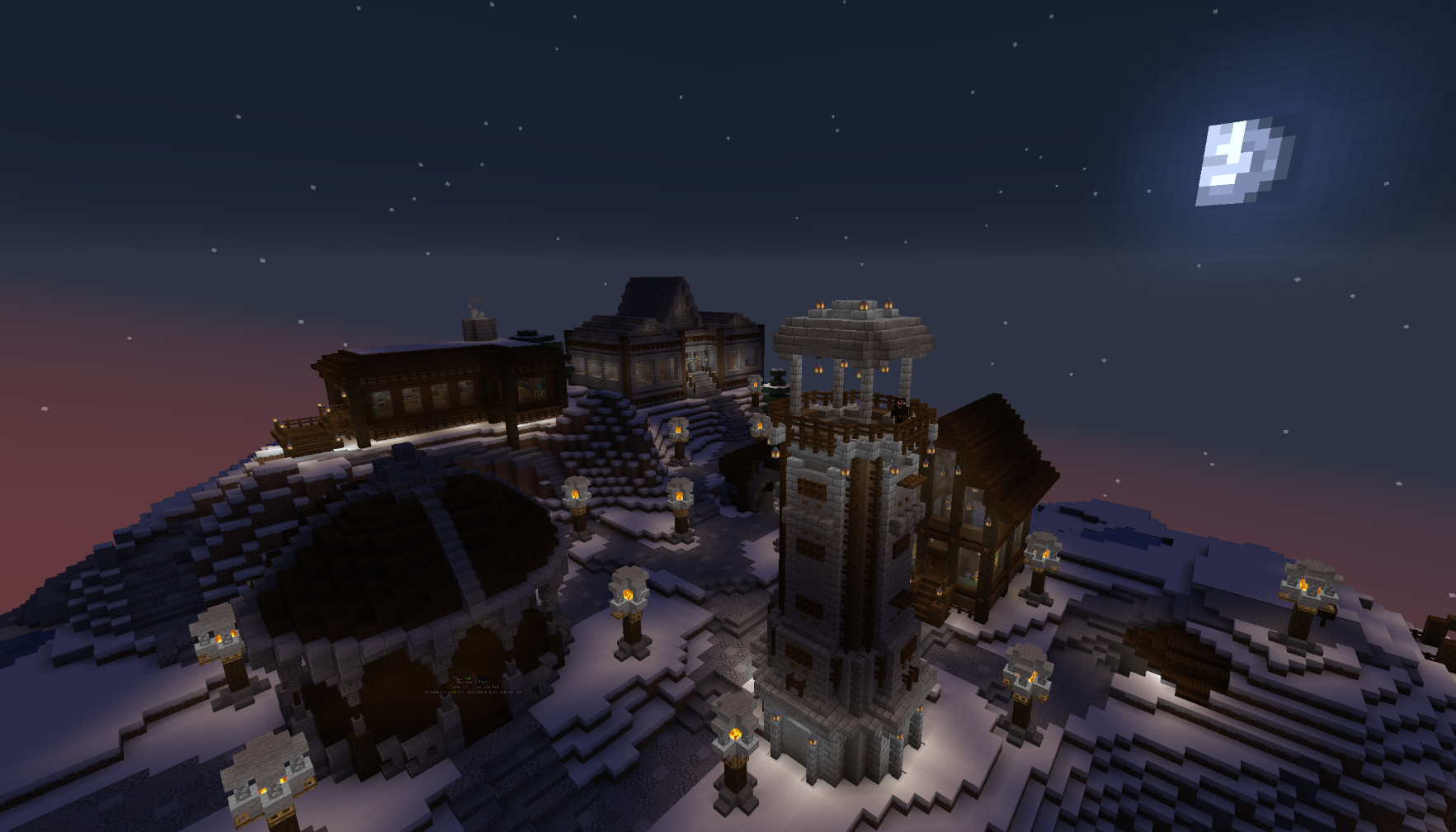 This Starter Guide will describe both general features of the Towny gamemode and CCNet-specific ones, together.
You can also type /resourcepack in-game to download the server resource pack, which includes textures used in Slimefun.
Your starting location is Spawn, where you will be greeted with some pieces of information to start off. Before heading over to the map to begin your journey though, you can explore the area!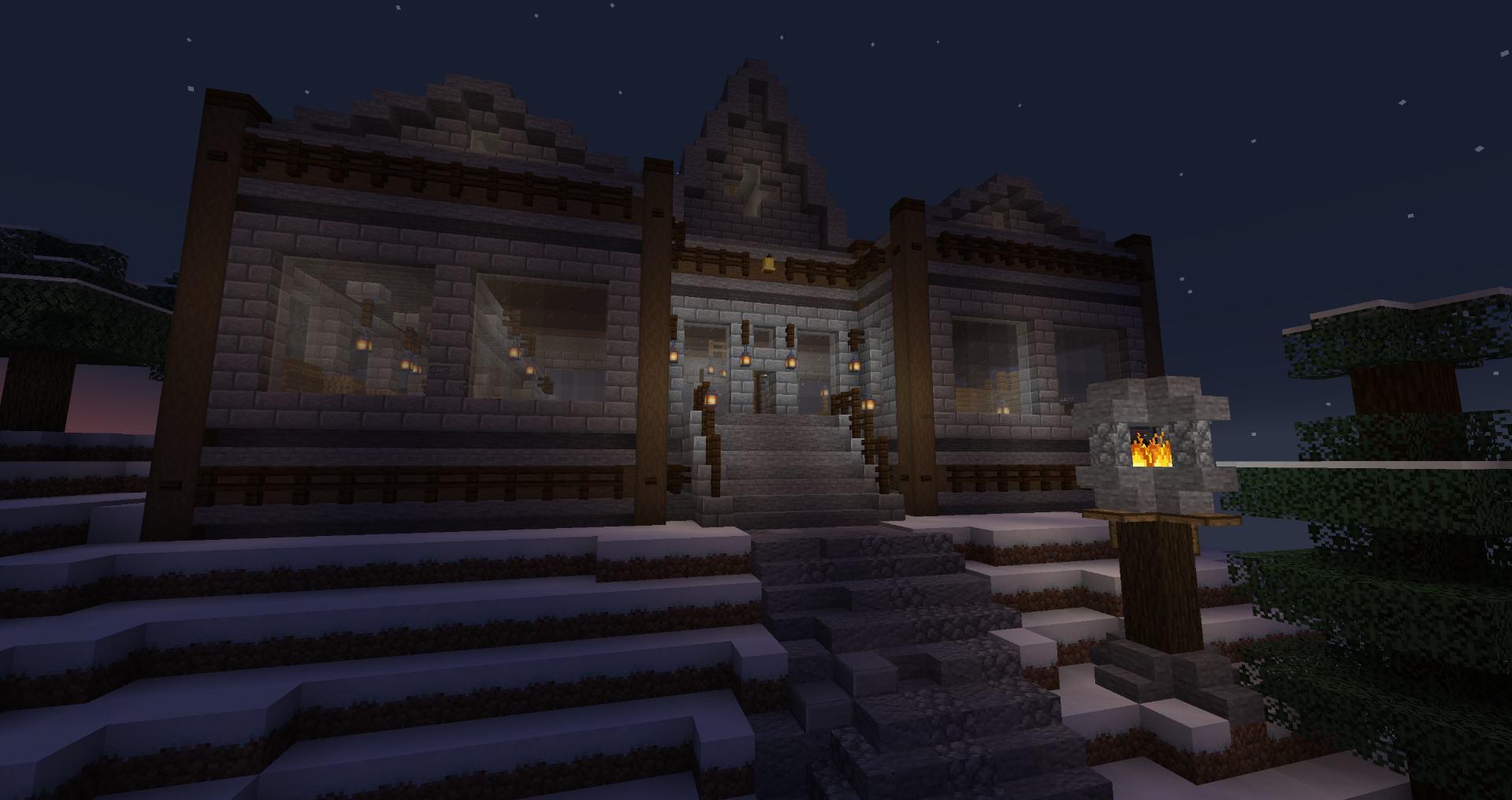 The most important building at spawn is the bank. Inside the bank, you will find a Treasurer that you can interact with.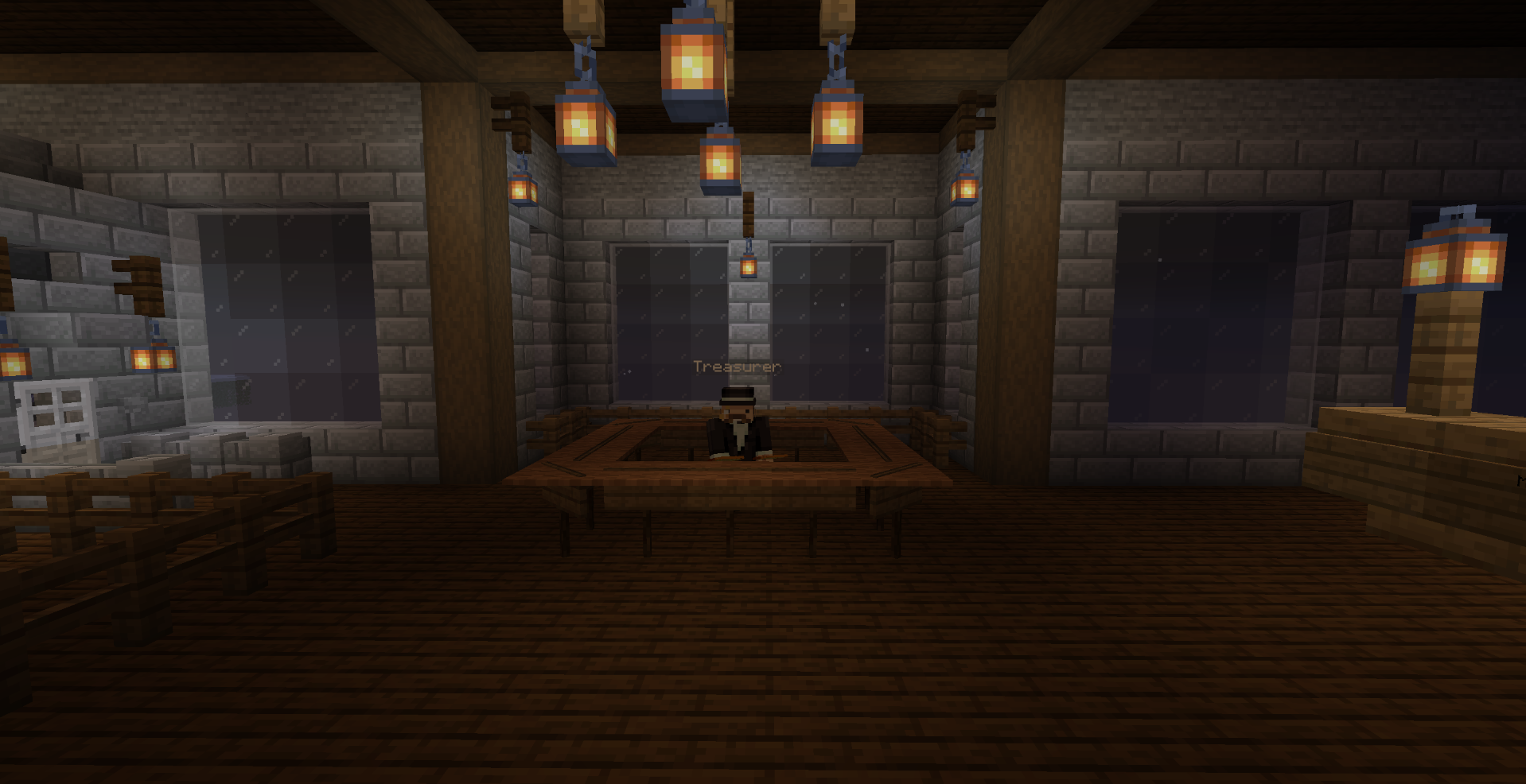 The Treasurer trades Gold Ingots for money, the server's official currency.
The bank is important because it describes the main method of money-making in Towny, which is selling Gold.
In general, you earn money by:
1) Selling Gold Ingots. Each Gold Ingot is normally worth $6 a piece. Gold Ingots can be exchanged through the server, not only at Spawn, but also in Server Outposts more conveniently.
Server Outposts are 12 custom-built locations around the map. For starters, each Outpost has a "Treasurer" (name varies) similar to the one at Spawn, whom you can sell your Gold to.
Check out the Server Outpost table in this article to find the nearest one to you!
2) Voting. Each /vote to support our server will grant you a free $18—along with a Loyalty Token, which you can spend in the /voteshop.
3) Trading. Once you have established yourself, you can also start selling materials and valuables to other players, person-to-person or in Playershops (more on trading later in this Guide).
Now you are ready to head into the /wild! Your first ever random teleportation—which is also your only free use of it—will pick a random starting spot for you in the map, outside of Spawn.
"But, what if I got teleported in a bad biome, but I want to go to a different one far away again?"
You can use /wild again, but at a small cost. However, finding the right place to stay in to build can wait for now. Your primary goal is to survive and make a shelter from mobs, as the world difficulty is set to Hard. After first setting your respawn point by sleeping in a bed, you can use /sethome within your shelter, to set your "home" teleport location. You can teleport back to your "home" teleport location with /home freely. Your "home" teleport location is most convenient at your house, but it can be anywhere you choose. Its location can be changed at any point by typing /sethome again.
If you wish to join other players, teleporting to them is done through /tpa (name of player). You also have access to /back, which will teleport you to the last location you teleported to, excluding your death point. The coordinates of your death will show in chat, and you can walk to them in order to retrieve your dropped items instead. Speaking of dying: you will respawn at your bed if you die 1000 blocks near it, and within 200 blocks of your death point if you die further than that.
¶ Settling: Towns and Nations
Settling is the core concept of Towny. The Wilderness is a dangerous place, which is all around you—PvP is enabled inside it, and anything you build there can be griefed by other players. Creating or joining a town is necessary in order to protect your items and builds. So, you can start looking for a town!
A town is a collection of players, called residents. It is owned by the Mayor, and managed by the Mayor and other residents that the Mayor grants ranks to. Towns can own and protect land, and form a nation or join one. Inside your town's land, you also have extra PvP protection, as outsiders cannot PvP with you. Residents of your town, towns in the nation you are part of, and towns in your allied nations also cannot PvP-tag you anywhere (unless in an arena plot).
If you are not planning to create your own town, you should ask around to find the appropriate one that fits your needs. You can even visit towns by teleporting to other players.
When looking for a town, it is best that you keep the following guidelines in mind:
The residents must be kind, welcoming, and willing to help you in case you need any. Above all, the town's players should be able to trust you with their town, so don't let them down! If the town staff treats you as only extra claims for their town size, you might be missing out on better towns.

The town must be well-organized, with each resident buying their own land to use from the town and own, separate from each other; the public space of the town being separate from the residents' own houses and land; and the town staff planning the town's land to use correctly.

The town must suit your gameplay needs, whether that is building, grinding, or trading. For example, maybe you want the town to have mob farms ready for you, or appropriate terrain for your home. You should also take into account the amount of tax the town has set to collect from your balance daily. You should ask the town you are interested in for its taxes on you (after joining a town, your taxes can be viewed in /towny prices).

Some towns might also have additional town rules—you, as the new player in town, should learn, get accustomed to, and follow any additional rules that the town staff present to you.
When you are ready to join a town, ask for an invite and then enter /accept (the inviting town's name). Then, you can use /t spawn to teleport to your town freely any time you want. A reminder that you can also /sethome anywhere at any point, to change your teleport location when you type /home. You can leave your town by typing /t leave.
If you are planning to create your own town, you don't need to settle yet! Feel free to look around on foot or by using the /map! You can also use /wild again, but at a price. Once ready, head to our complete Guide to the Towny plugin, which will walk you through starting your town, and is a necessary baseline for complete knowledge on managing your town through various features and commands (as well as describing and explaining many, many other features of the Towny plugin that you can use to organize or spice up your town).
Making a town also comes with a goal or theme in mind; take all the time you need. You will want to find the suitable land and biomes for your town, before creating it. In Towny, your creativity is the limit for an appealing and compelling town!

Set appropriate town taxes for your residents. Money earned by the town from taxes is usually meant as a bank for future need, for town construction and development, or for general economic dominance. High taxes may mean that many players are put off: your residents may consider leaving, and potential residents may disregard your town. Low taxes on the other hand, may mean that you or some of your residents may need to do work in order to bear the cost of the town's daily upkeep or other projects that the town needs money for. Don't be afraid to let your residents or interested players know about your town's taxes.

You can choose to stay alone at your town, but letting other players join allows you to form your community and expand your town further. In order to keep your residents satisfied, this community may need activity, active maintaining and organizing, proper urban planning, rules, communication, and a healthy environment for players who are willing to cooperate and play together—keep friendly, respectful, and organize your town's land appropriately. Having other players in your town also means that you (along with other town staff) need to be a part of the same group as your other residents, regardless of the fact that you have the power to do anything with the town—this means that you shouldn't greed for the town's money and resources, and especially those that your residents need. With great power comes great responsibility!

Being part of a nation grants your town multiple important benefits, such as more available chunks to claim, extra land protection around it, and a bigger community to play with, among others. You should choose to play with a nation in which towns have similar aspirations and economic ambitions to your own town, and the members are helpful and friendly. Also consider if the nation has set a town nation tax, which is removed from your town bank daily (the nation's town nation tax can be viewed through /n (name of nation)).

You could even create and lead your own nation! However, it may require some planning and commitment, and it should have a clear objective and goals. Your town as the capital town will be the nation's administrative center, organizing the nation and its activity, and granting ranks or other privileges to other nation members. There is a lot you can do to expand the scope and influence of your nation, and create an even larger, exciting and ardent community. Namely:

— Set nation-wide rules and boundaries.
— Zealously recruit other towns and make the nation appealing to outsiders looking to join.
— Incorporate other members and towns in your nation.
— Create alliances that assist you in economy and conflict.
— You may even want to set a nation spawn in one of the nation's towns, or the capital, that will be used for nation facilities.

And of course, communicate to anyone interested about what the nation is, what its ambitions are… and lead the charge against your enemies. Remember that your nation members' passion and creativity drive the nation, with their Leader as the example.
In the end, Towny is about having a fun time, so choose fun and respectful people to be around, and an interesting theme for the town you own or join!
…Before the town chapter is concluded: here are some neat chat commands you should know, which have a specific purpose, or are used for talking privately with certain players.
Normally, your messages are sent to the global chat, where all players in the server can chat together. You can simply type /g, to return to the global chat.
/l (message) or /l (local chat) is used for talking privately with any players up to 200 blocks near you.
/tc (message) or /tc (town chat) is used for talking privately with other residents of your town only.
/nc (message) or /nc (nation chat) is used for talking privately with other nation members of your nation only.
/trd (message) or /trd (trade chat) is used for trading and negotiating purposes, but it can be seen by the whole server.
In any case, Towny does not start and end with towns! While finding a nice town perfect for you to settle in is the essence of Towny, there are many other elements waiting for you to delve into.

Movecraft is a plugin that allows you to build your own moveable vehicles, ships, planes, and other structures (called "craft," collectively) block by block. They have various uses, such as transportation, cargo, and sieging or craft combat. In Towny, your craft can have any design you wish—be creative!
The main article on Movecraft explains what Movecraft is about, providing a tutorial on how to build your craft, and describes the plugin's mechanics.
The first craft you should be looking to create is an Airskiff. The Airskiff is the smallest, fastest possible, and most fuel-efficient transportation plane (yes, you can fly it). It is extremely useful for travelling around the map, especially in order to mine and sell Gold in Server Outposts for money. You first need to find some space to build it on, in the air or on terrain.
For a complete list of the Airskiff's description, requirements and limitations, you can head over to the Airskiff article by clicking here. The Airskiff has to be at least 50 blocks in size, and it must have some Wool and Redstone Blocks, and one Furnace (for fuel) in order to move and fly.
Important tips! :
[1] A Pilot sign is necessary (to lock the craft).
[2] Ascend / Descend signs are optional but also highly useful.
The 3 signs mentioned above are the most important for an Airskiff, but there are many other signs you can use on any craft, including an Airskiff.

The article on Movecraft signs

has more information.
[3] The easiest extra blocks to use here are: Glass, Logs, or Planks—although you can use any Allowed Block on Craft from the list.
To ensure your craft is not griefed or stolen, it is most safe to place them inside your own town's claims or even in your own resident plots, along with a Pilot sign as mentioned above.
The Airskiff will probably be your trusty plane for any exploration and travelling trip by air. However, you can always build and experiment with other Craft Classes and their designs if you find them useful. In Towny, there exist 21 Craft Classes in total, each fulfilling a different and unique role. The list of Craft Classes in Towny can be found in the main Movecraft page. Here are a few examples:
The Air Express is an aircraft that can hold a huge amount of cargo.
Likewise, the Vehicle is a fast transportation and cargo craft, but it travels on land instead.
Working a Harvester can make collecting crops from your giant farmlands extremely easy and time-efficient.
…and a lot more!
As mentioned earlier, Movecraft craft can be brought into combat too. Craft-to-craft combat may happen between two meeting craft for sieges, territory control, or even because someone decided to stand in your way. The two weapons that you can use in craft combat to fire at enemies, are TNT cannons and Fire Charges through Dispensers.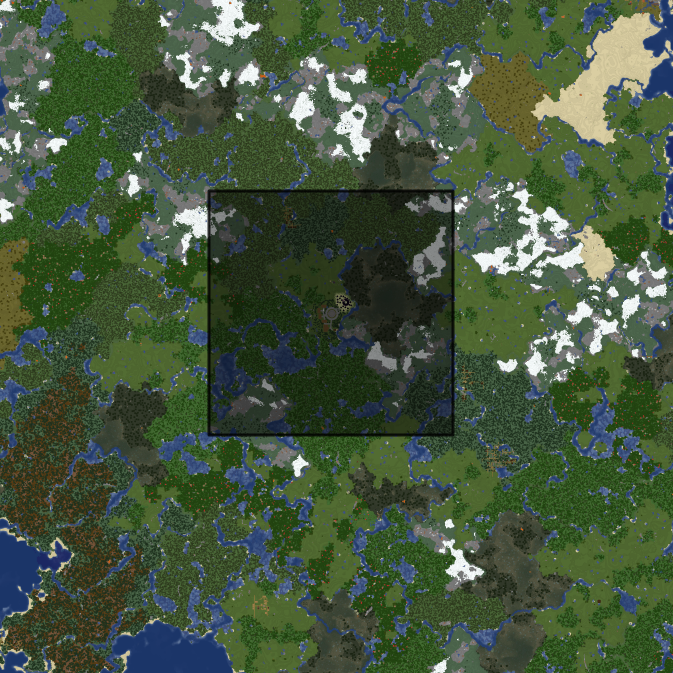 Craft combat can be divided into two categories:
Open conflict, where you are trying to defeat an enemy craft in order to loot the resources it is carrying or its pilot and passengers' items.
Siege conflict, where you are trying to stand your ground from other enemy craft during sieges, in order to win control of a Server Outpost.
Sieges on Server Outposts are the formal means of warfare in Towny, and they take place in a large area around each Server Outpost, called the Siege Zone. Siege Zones are denoted by black squares in the Dynamic map (seen in the image on the right).
During Outpost sieges, players fight to represent their nation, against players from foreign nations. Nation members participating in a siege may engage in intense combat and siege conflict against each other, in order to ward off the enemy craft and enemy players. To win a siege for their own nation, the player that started it must keep an Air Heavy Carrier, Air Gunship, Airship, Destroyer, or Dreadnought piloted and fully inside the Siege Zone for 30 minutes uninterrupted.
Winning a siege grants benefits to the winning nation's members, such as a higher selling price for Gold in that Server Outpost ($9 instead of $6), and free-to-setup and use Playershops in the Outpost, for central and easy trading.
You can find complete information on Server Outposts and Outpost Sieges, by clicking here.
The Slimefun plugin introduces a unique form of industry, magic, and various other features all in one. Slimefun's foundation is a multitude of machines that enhance Vanilla gameplay and allow you to craft high-tier resources and gear. These machines can be either manual or automated—some machines may also have a both a manual and automated version, with similar functionalities.
Slimefun's features can be explored in full on our wiki, by clicking here. The recipes, on the other hand, can be viewed through the in-game Slimefun Guide. You definitely got this book when joining, but in case you lost it, type /sf book. Opening the Slimefun Guide, you can click a category and then an item, to view its recipe: the middle of the menu shows the recipe itself, while on the left, the machine you must put the recipe in is shown.
Two of the basic aspects of Slimefun that will be explained shortly are basic utility and dust production. Both of them will incorporate manual machinery for now, and are extremely useful when starting off.
BASIC UTILITY: Composed of general-purpose and efficient machines.
The Enhanced Crafting Table is the main crafting workbench in Slimefun—just like a normal Crafting Table is the main crafting workbench in Vanilla. A lot of general, shaped Slimefun recipes are placed in here.
Higher Tiers of Enhanced Furnaces will allow you to smelt resources faster and more fuel-efficiently, and also multiply ingots. Most importantly, it helps you extract more Gold Ingots than normal when smelting ore!
You can double the Planks and Sticks that you get out of wood by sawing it in the Table Saw.
DUST PRODUCTION: Dusts, basic ingots and alloy ingots are the main resources necessary to craft components and machines, and they are the resources you may need the most in Slimefun. As such, dust production is the heart of industry. There exist 8 dust types: Aluminum, Copper, Gold, Iron, Lead, Silver, Tin, and Zinc. Smelting a dust in the Smeltery gives you its respective basic ingot, while smelting together a combination of dusts, ingots, and other resources, gives you alloy ingots.
Dust production follows a typical processing order, utilizing 4 machines:
Slimefun is all about efficiency and (you guessed it…) fun! As you venture more into it, you will learn about Energy and how to operate advanced, automated Electric Machinery and Cargo, how easy it is to acquire Lava for your Lava Generator, fun and special plants, food and drinks, unique endgame Rune Enchantments and more!
So, you decided that you may need to sell valuables for money, or want to buy them in order to progress easier… But after earning some money, how do you go about trading in a complex economy? Exploring a server's economy can be intimidating for the unexperienced, but that is why we're here.
Giving money to other players is done through the command /pay (player name) (amount).

First and foremost: You should get a good feel of the server's features before diving into economy activity and trading. This will help you evaluate and pinpoint which goods are common, which ones are rare, the good goods and the bad goods. Keep a list of resources, gear, devices, builds, and other goods that seem desirable to other players, and update it often. The traded goods could be similar to the ones you use or consume, but you can also produce and trade items that may not be useful to you, but are useful to others. As you accumulate items and more knowledge about the server, you may feel more comfortable in trading your excess as well.
You can learn about both major and obscure features of the CCNet Towny server by looking around our Wiki, right here. Utilize the side-bar on the left, and happy exploring!
The community's part: Other, more experienced players—including your townmates—can help you understand the game and guide you through the economy too! Don't hesitate to ask for advice, if a certain product would be worthwhile to trade. Sometimes, even watching chat can be a good source of information on what deals are being made.
Dabbling further than that into trading requires more interaction with the market, and of course the community. Alongside gaining even more experience as a trader, you may find that some may choose to buy certain goods from you, specifically, because only you might be selling, or you are the most available and trustworthy to them. Over time, and with enough reliability and acknowledgement, you are sure to get recurring, satisfied customers!
What determines the pricing is generally the type of trade:
Bulk, when a large number of goods is being traded at once. For example, double chests of colored Concrete, or three stacks of Redstone. Usually, the seller has settled on a price per bulk amount for this type of trade, based on the market.
Per-unit, when a single good or a smaller number of goods than bulk is being traded, because they are unique or more rare. For example, a sturdy Diamond Sword, or a few animals, or a fully constructed and functioning aircraft. Usually, the seller has settled on a price per unit for this type of trade if it is a common product, based on the market, or a unit price if it is a unique product, based on their own personal discretion.
Service equivalent, when the trade is investing time in helping someone, in order to gain a virtual good—most often money. For example, mining out an area of someone's town that may later be used for building by them, or being hired for a mission to transfer items from one place of the world to another. The price can be either purely based on the personal discretion of the player who is asking for the service, or influenced by the market if the service is common among the community.
Most often, you will find yourself trading goods in person—and you should remain cautious for every in-person trade at first. You or another player first shows interest in what is being traded through chat, and you have a brief exchange to ask questions such as the price and availability. The price can be negotiated during this time, for either player to provide a bigger reward for the trade (lower cost/higher price, better service/product, etc.). If you or the other player are willing to trade in person, you can schedule to meet, and then the goods are exchanged. For other active modes of trading than in-person, you will need to talk with the other player to find a common ground.
Please keep in mind that scamming in Towny is not allowed per rules, so keep logs of your negotiations and trades.
There also exist passive modes of trading in Towny.
Playershops allow a player to trade items remotely, online or offline. They can be created by anyone, inside a town or at an allocated playershop inside an outpost that their own nation controls.
Playershops in towns are an extremely interactive way of passive trading. It will require a good amount of town planning. The town's spawn must be public, so that other players can teleport to it by typing /t spawn (town name) or /n spawn (nation name), and the builders and town staff may arrange playershop claims/plots near the spawn warp, that will be accessible either through travel or by teleportation with the previously mentioned commands. It is most useful if the playershops are public, so that players can easily reach the shops in order to trade. Players from other towns can also make shops in towns different from theirs.

Pros: Interactivity in trading and accessibility through travel. Cons: Requires extensive planning and careful town management.

Playershops in outposts, allow every player on the server to travel at a single financial center, the outpost, at once, providing the controlling nation's members with even more benefits. The nation's Leader or Coleader can freely provide one or multiple of the 8 playershop areas to any nation members or themselves, and they can in turn create playershops inside them with all sorts of items. However, playershops and their contents are deleted if a nation loses control of the outpost.

Pros: Easier shopping for buyers and easier setup for sellers. Cons: Risk of losing items.
Click here for more information on setting up shop in towns and outposts!
Advertisements ("ads" for short)
The Advertisement feature enables you to broadcast a special message to players about an item you'd like to sell, or a service you'd like to give! Owning an advertisement slot comes at a price of $70.00 and expires within 7 days! If you want to purchase a slot or view any advertisements, all you need to do is type the command: /ads. Left click on a free ad slot, denoted as signs to purchase. For further information about advertisements, click here.
And there you have it, your guide to Towny! Take your first steps to create an awesome, beautiful and industrialized town for yourself, or help other players develop their town for it to be the best town there is!