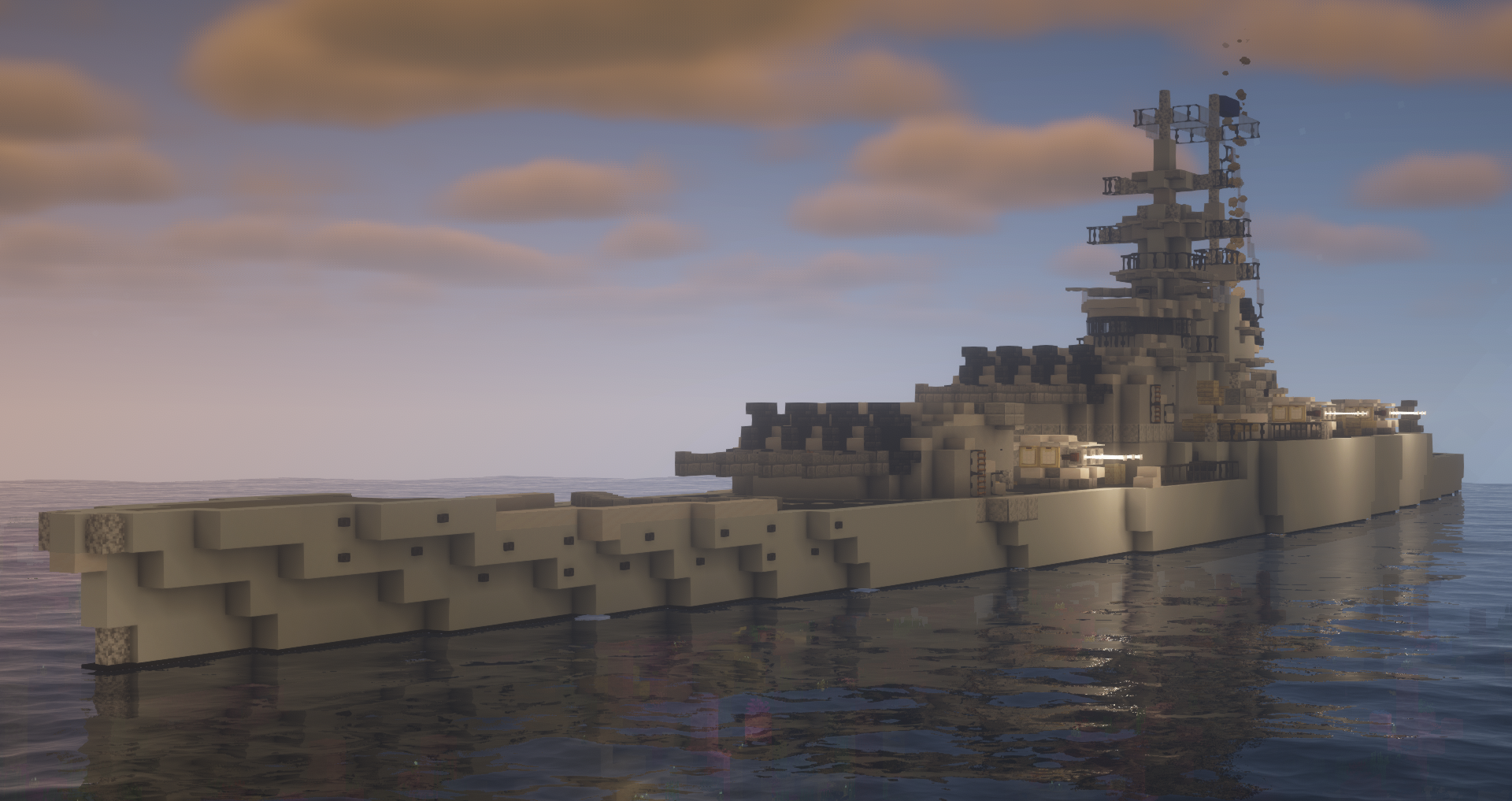 Movecraft is a vast and important plugin on Nations, but many can find it confusing and disorientating at first.
How do you build a ship? How do I equip my ship with weapons? How do I use my ship's weapons? How do I design a ship suitable for combat?
In this tutorial, we will begin with explaining how to build a ship, and end with how to effectively use ships in combat.
Movecraft has both civilian and military uses. You could use Movecraft to:
"Hold on!", you might exclaim. "I don't want to spend hours learning how to build and use ships in survival!"
Don't worry - come to the Movecraft creative server at /server movecraft. On the creative server, you can claim a plot where you can build and experiment with ships to your heart's content. You can even use WorldEdit to assist you with building.
Type /ps auto to automatically claim a plot, or alternatively fly to an unclaimed plot and type /ps claim. Please note that your plot will be deleted if you do not login for 90 days!
You can test your creations in the arena world, accessible through /mv tp arena. The arena world resets daily.
While it is not required, the CCNet Resource Pack is important for Movecrafters. Without it, cannons and guns will be silent, and all ammunition items will look the same! You can find the download link to the resource pack by typing /resourcepack on Nations or the Creative server.
Movecraft ships (or as they are commonly called, "crafts"), are not items that are crafted. They are structures, made out of real blocks, that can move.
There are different types of crafts, each with their own purpose and size range.
Each craft type has an Allowed Blocks list, which contains all the blocks that can be part of a craft.
You can view this in-game using /craftblocks [name of craft type].
All craft types also have Block Requirements, which need to be met for the craft to work. For example, at least 45% of a Cruiser needs to built from concrete.
There are also Block Limits, which limit how many of a specific block a craft can have. For example, no more than 2% of a Cargo Ship can be built from chests.
You can calculate these in-game using /craftcalc [name of craft type] [size of craft].
The list of craft types and the tutorial on how to build them can be found at the main Movecraft article.
There are two ways to move a ship: Manual and Direct Control.
Manual mode is very simple. Pilot the craft and right-click with a stick in the direction that you want the craft to move in. Every time you click, the craft will move once.
If you don't want to keep clicking, you can activate Cruise mode. Look in the direction that you want to travel and type /cruise on to begin cruising. Type /cruise off to stop cruising. You can alternatively use a Cruise sign.
Rotate a craft clockwise using /rotate right (/ror) and anti-clockwise using /rotate left (/rol).
You can also use a Helm sign if you prefer not to use commands.
Direct Control mode allows you to move your craft by moving your character. Pilot the craft and type /dc to activate Direct Control mode. The craft will then begin cruising and travel in the cardinal direction that your character moves. Sneak to cruise in the direction you are facing, and unsneak to stop cruising.
You can rotate in Direct Control mode by holding a compass and pressing the Swap Item key (default: F) to rotate clockwise, and the Drop Item key (default: Q) to rotate anticlockwise.
For aircraft, Direct Control mode is different. Move forwards to pitch the aircraft downwards, and move backwards to pitch the aircraft upwards - like pulling back a control stick. Move left to strafe to the left, and move right to strafe to the right. You can combine these movements to strafe while ascending and descending. Scroll through your hotbar using a clock to adjust the throttle.
Note: DC mode does not work well if you are standing on a half slab.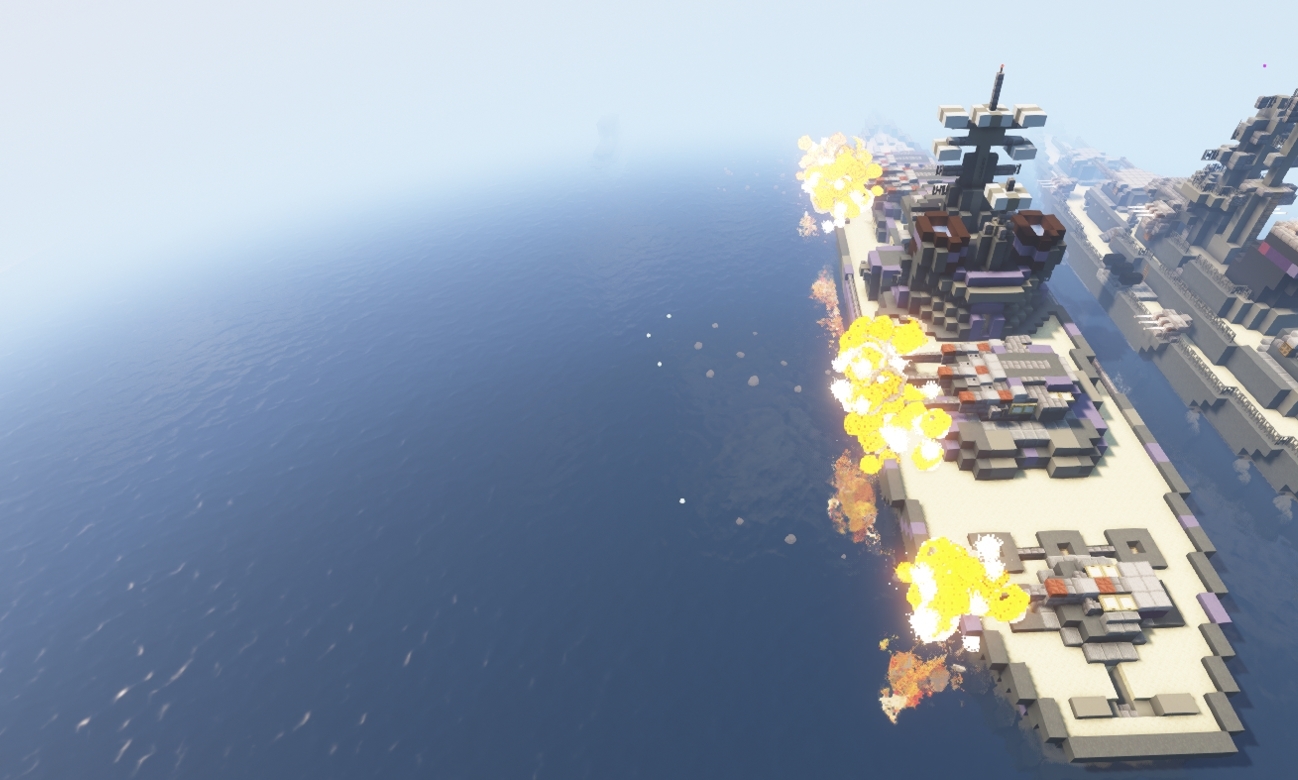 Of course, building a battleship without guns is rather silly! In this section, we will review the several types of weaponry that you can deploy on your crafts.
Cannons are the bread and butter of a craft's armament. They are multiblock structures that shoot projectiles that detonate on impact.
Each cannon has a "firepower" value, and every craft type that allows cannons has a firepower limit. Both a craft type's firepower limit and list of allowed cannons restrict the types and combinations of cannons it can have.
There are two aspects to operating a cannon: aiming and firing. We will discuss these below.
Any cannon can be manually aimed by shift right-clicking it with a clock and holding right-click in the angle you want to fire at. The cannon's aim will then be adjusted to that angle.
This is not very practical for crafts with many cannons! Fortunately, all you need to do on a craft is right-click with a clock in the angle you want to fire at. This will adjust the aim of all cannons that can fire at that angle, towards that angle.
To manually fire a cannon, right-click its barrel with a projectile to load it, then right-click its trigger block. This trigger block varies depending on the cannon, but is generally a stone button.
Again, manual firing is not practical for larger crafts. But firing all cannons on a craft is as simple as aiming them - left-click with a clock while looking at the direction you want to fire, in order to fire all cannons facing that general direction.
Cannons fired in this way will reload projectiles from their auto-loading point. This is a specific point in the cannon design where a container storing ammunition can be placed. The container can be any block with an inventory (e.g. droppers, hoppers, etc), but most people use chests and barrels for convenience.
Be careful about where you place your auto-loading containers. Any container that contains ammunition will trigger a secondary magazine explosion when blown up, its strength increasing with the number of munitions stored.
¶ Aiming and Firing Cannons of a Specific Type
What if you only wanted to fire or aim one type of cannon - say, just anti-air cannons? This is simple as renaming the clock to the Cannon ID of the cannon type you want to control. These IDs are listed in the Cannons article.
¶ Torpedoes, Depth Charges and Bombs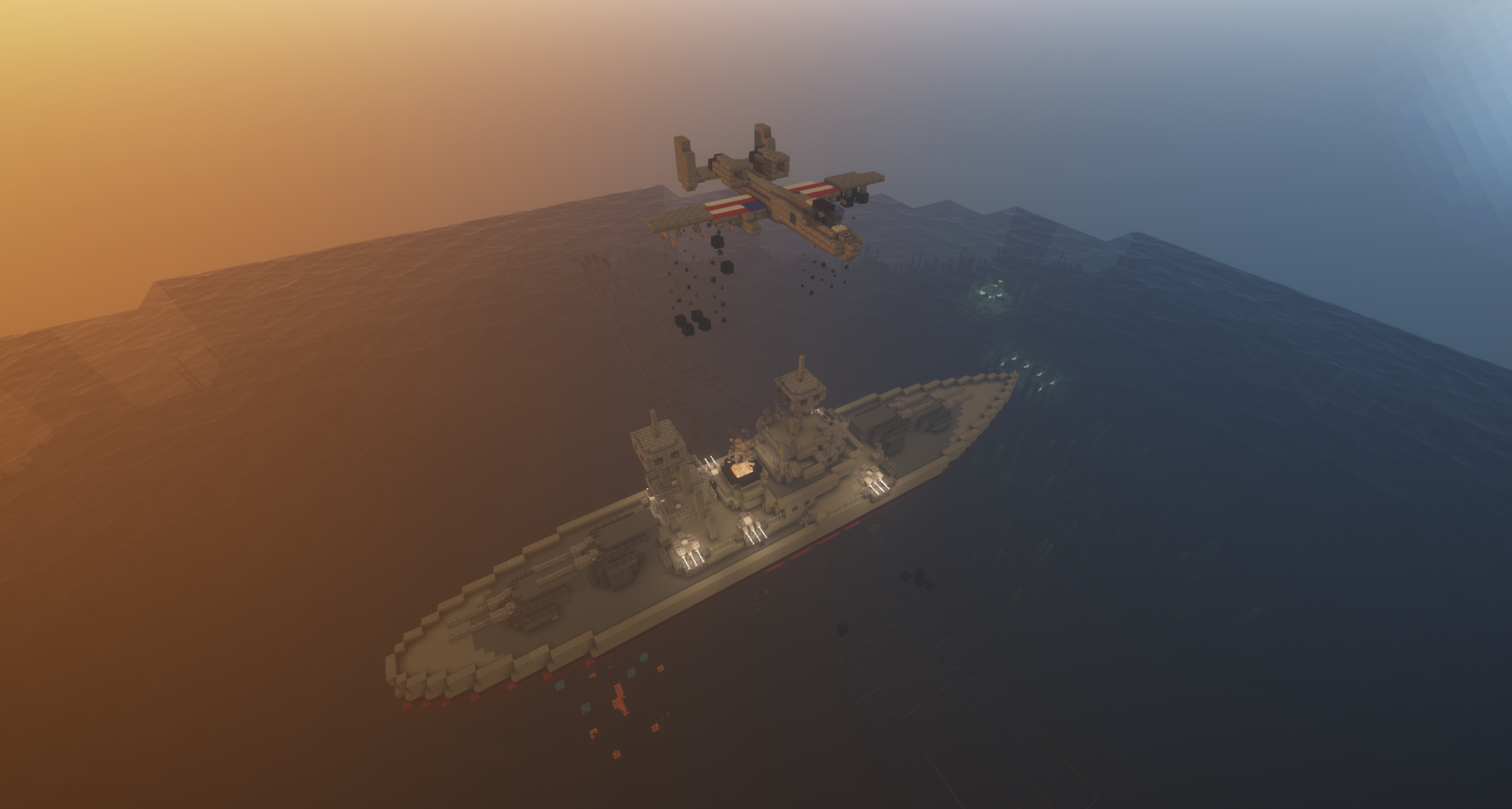 Bombs are one-block coal block structures that can be dropped from any craft type that allows coal blocks. Once activated, the bomb will fall until it hits a solid block and detonates. They are mainly used on bombers.
Torpedoes are also coal block structures that can be fired from any craft type that allows coal blocks. They will travel diagonally upwards or downwards until they reach y 62. Upon reaching y 62, they will cruise at that level. Like bombs, torpedoes detonate upon impact with a solid block. They are the primary weapons of submarines.
Depth charges are a unique variant of bombs that can only be used by destroyers. As well as exploding when they hit a solid block, depth charges trigger a secondary explosion on all submarines within a 50 block radius.
Main article: Directed TNT Mechanics
As of the time of writing, there has been little research into the use of TNT cannons as a weapon on crafts. It is not difficult to see why: they are more expensive, require redstone to fire, and can be difficult to aim. However, this does not mean they cannot be effective. The few tests done with TNT cannons have shown they can be immensely powerful if built correctly.
TNT fired from your craft can have its trajectory changed (or in other words, be directed) using Cannon Director signs. Directed TNT has some special properties. After reaching a certain velocity, they will explode on impact with a solid block, instead of bouncing off. Moreover, the strength of their explosions scales with the velocity that they are travelling. High-velocity TNT cannons will therefore do more damage.
The armour block on crafts is Terracotta. Terracotta has increased blast resistance when it is on a piloted craft. For this reason, most crafts that allow terracotta have a terracotta limit.
An armour layout that protects well against cannons will not necessarily protect well against torpedoes and TNT cannons - and vice versa. Try experimenting with different layouts to see what best suits you.
Tinted Glass also has increased blast resistance when on a piloted craft. This is not high enough for it to be used as actual armour, but it is a recommended as an alternative to normal glass. Do note that you must set your client graphics to "Fabulous" mode to see particles through Tinted Glass.
¶ Subcrafts and Turrets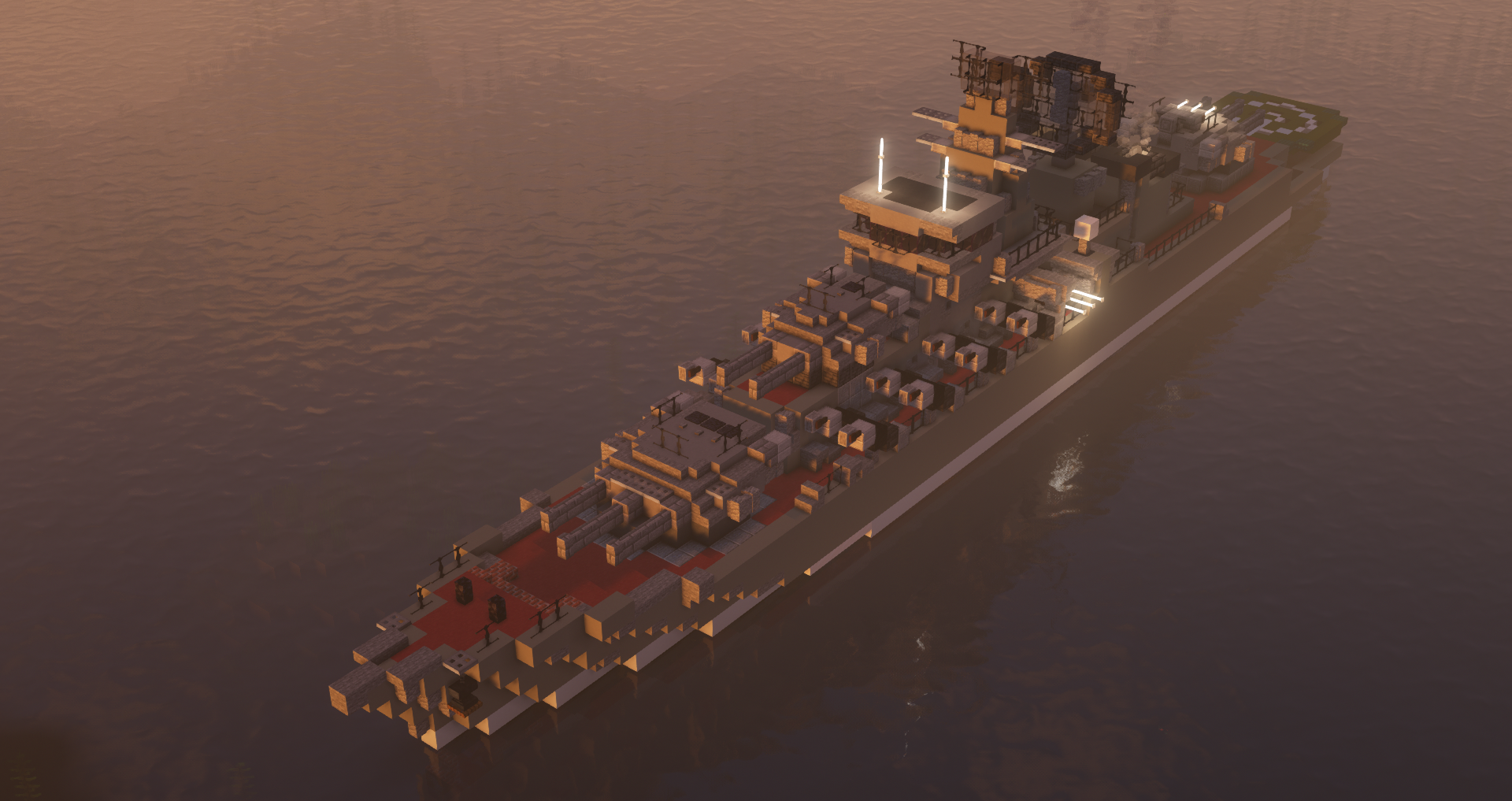 Having all your cannons pointed at one direction isn't always a good idea. What if you are attacked from the flanks or behind? In some cases, rotating to face the new threat isn't always possible, either due to the rotation cooldown or being obstructed by blocks.
This is where turrets come in. Turrets are subcrafts that allow parts of your craft to rotate independently from the rest of your craft.
A subcraft is a craft that is part of a larger parent craft. Subcrafts need to be fully separated from their parent craft using blocks that are allowed on the parent craft, but not allowed on the subcraft. This allows the parent craft to carry the subcraft, while preventing the subcraft from thinking that the parent craft is part of itself.
A block that is allowed on most crafts, but not allowed on turrets, is Polished Andesite. This makes it a good block to separate turrets from their parent craft. However, there are others too. You can find these using /craftblocks compare [parent craft type] Turret. This will show the list of blocks that are allowed on the parent craft, but not allowed on the turret.
Subcrafts can be rotated using Subcraft Rotate signs. Subcraft Rotate signs are placed on the subcraft. When right-clicked, they will rotate the subcraft clockwise. When left-clicked, they will rotate the subcraft anticlockwise.
The first line of a Subcraft Rotate sign must say Subcraft Rotate.
The second line must be the craft type of the subcraft, e.g. Turret.
The third line is optional, and can be the name of the subcraft. This is important for remotely controlling subcrafts, which is covered next.
Sometimes the rotation of a subcraft might fail, saying that the subcraft is "already rotating". If it isn't actually already rotating, this means that the subcraft is too large - usually because it's connected to the parent craft somewhere. You can check this by trying to pilot the subcraft as a standalone craft.
Of course, it isn't sensible to run around your craft during a battle, frantically clicking the Subcraft Rotate signs on your turrets! Remote signs allow any sign on your craft to be triggered remotely, such as from your bridge or control center. For example, you can use Remote signs to remotely trigger Subcraft Rotate signs, as well as the launch signs of torpedoes and bombs.
The first line of a Remote sign must say Remote Sign.
The second line must be the second line of the sign that you want to trigger.
The third line is optional, and can be the third line of the sign that you want to trigger.
For example, the following Remote sign:
Remote Sign
Turret
Front
..would trigger all signs like:
Subcraft Rotate
Turret
Front
Remote tools are item forms of remote signs. Left/right-clicking with a remote tool has the same effect as left/right-clicking on a remote sign. They can be used instead of remote signs if you do not like sign interaction.
Type /remotetool create <optional name for identification> to create a remote tool.
Now we need to specify what lines must be on the signs that the remote tool should trigger. These are what you would type on a remote sign after its first "Remote Sign" line.
To do this, hold a remote tool and type:
/remotetool setline <line number> <text>
For example, consider the following remote sign:
Remote Sign
Turret
Front
To create an equivalent remote tool, you would type:
/remotetool create
/remotetool setline 1 Turret
/remotetool setline 2 Front
The fun part of Movecraft is taking your crafts into battle! Below are some commands and concepts that are useful for ship v. ship combat (SvS).
Be able to afford a loss. You should not use a craft that you are not prepared to lose or replace, unless you are okay with that. Piracy is legal and can happen!
Bigger is not always better. Bigger crafts can absorb more damage, but are more expensive and can find themselves stuck and obstructed by obstacles more often.
Experience matters. A bad ship in the hands of an experienced player can compete with a good ship in the hands of an inexperienced player.
The list of all piloted crafts can be seen using /craftlist. The command will not reveal the pilot, type or size of these crafts. However, every entry will be coloured depending on the relationship of the pilot's nation to your nation:
Green → friendly (same town/same nation/allied nation)
White → neutral
Red → enemy nation
Close crafts will appear on your craft's contacts. When this happens, you will receive a ping in chat with the pilot, type, size and relative direction of the craft. Larger craft types will appear on contacts from further away than smaller craft types. Contacts can be tracked using the /contacts command or the Contacts sign.
A fleet without a destroyer will find itself vulnerable to submarine attacks. An aircraft carrier without an escort will find itself a sitting duck. And without air support, it might be difficult to take out heavy tanks without your own. Having a balanced fleet is important, especially if you do not know what you are going up against.
¶ Ship Combat and Peaceful Towns
While engaged in ship combat, your ship cannot enter the claims of a peaceful town. As such, make sure to carefully plan and coordinate your ship movements to reduce the chance of an unescapable ambush.
Since Minecraft 1.18, there can be a significant delay between a craft moving and the craft actually updating on your screen. This can be reduced by changing these two client settings:
Video Settings → Increase Chunk Update Threads from 0.
Video Settings → Change Chunk Builder to Fully Blocking.

If you use the Sodium mod, you can find this setting by pressing Shift + P from the Video Settings menu.
Main article: Movecraft Signs - Repair Signs
Building a ship from scratch every time it needs to be copied would be quite painful. This is where Repair signs are useful. Repair signs allow you to save the current state of a piloted craft to a Repair State, then rebuild the craft to this Repair State later if it changes.
The first line of a Repair sign must be Repair:
The second line must be the name of the Repair State that this Repair sign will save to and restore.
Repair States belong to you. Other players cannot use your Repair States; they must save identical copies for themselves.
Note: Repair signs are not available on the creative server, since they're unnecessary (use WorldEdit!)
Left-click a Repair sign to save a piloted craft to the Repair State specified on the sign.
Be careful of accidentally left-clicking the sign - this will overwrite any existing Repair State with the piloted craft.
The Repair State will be saved relative to the orientation and location of the Repair sign at the time that it is saved.
Right-click a Repair sign to restore a piloted craft to the Repair state specified on the sign.
Restoring a piloted craft to a saved state will cost materials and money. The materials are pulled from container blocks on the craft, such as chests. If you do not have enough materials to restore the craft to its saved state, right-clicking the sign will provide you with a list of the materials required.
Remember, Repair States are saved relative to the orientation and location of the Repair sign at the time that it is saved. Similarly, the Repair State will be restored relative to the exact same orientation and location they were saved at.
For example, if the Repair State was saved while the Repair sign was facing north, but the craft rotates so that the Repair sign now faces west, the Repair sign will still try to restore the Repair State assuming the Repair sign is still facing north. In other words, the repaired craft will always face the same direction that it was saved in.
Main article: Shipyards
Repair signs can be used with the special Shipyard craft type to generate (or "print") crafts from scratch. The Shipyard is a stationary craft with a very large allowed blocks list. This allows you to:
Pilot the shipyard with a craft attached to it.
Save the shipyard to a Repair State.
Detach and move the craft away from the shipyard.
Rebuild the craft by restoring the Repair State.