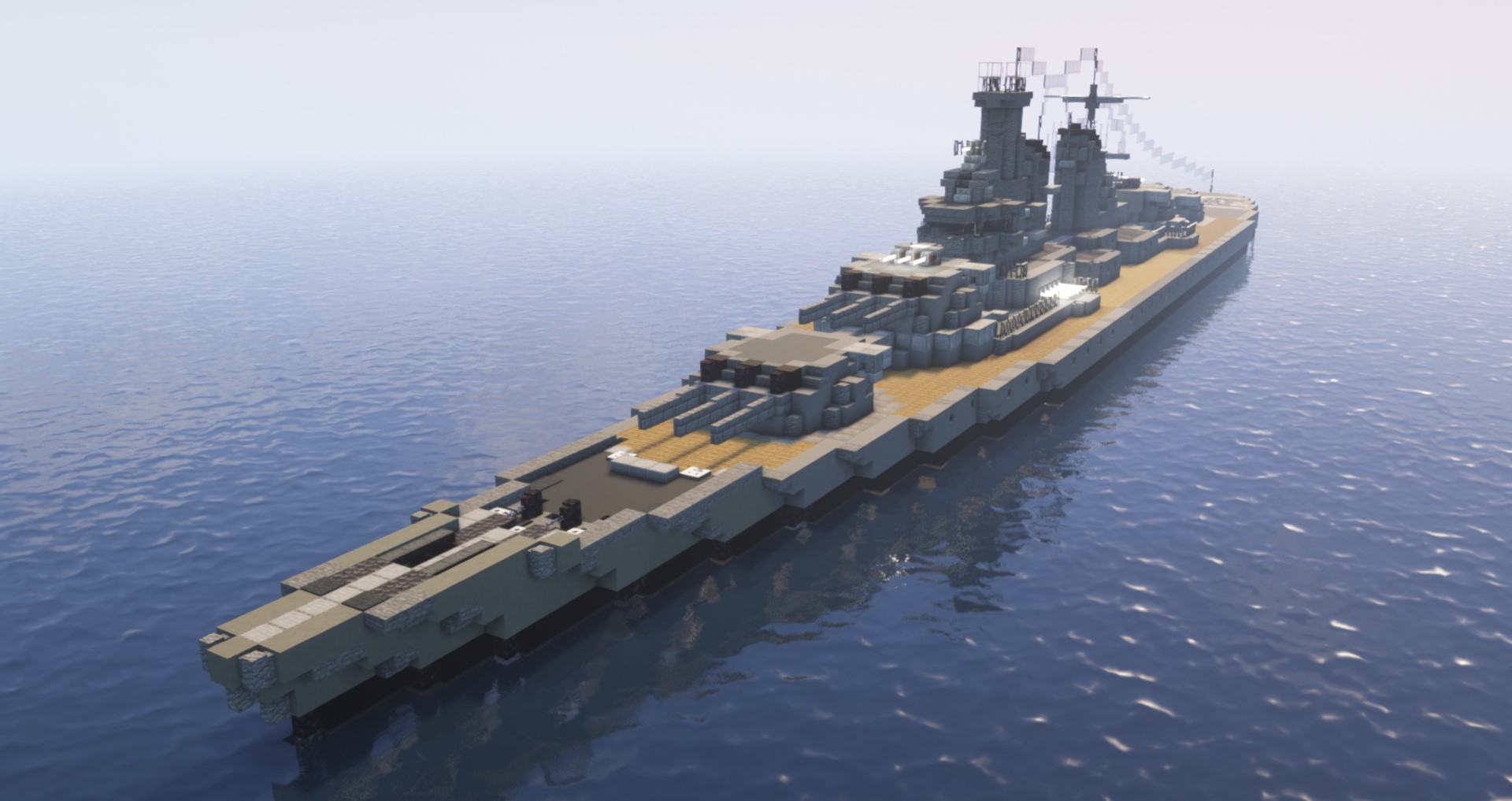 CCNet Nations is a geopolitical gamemode set on a 1:1000 scale map of Earth, revolving around conflict, trade and diplomacy.
Forge your legacy:

Join or create a town and sculpt into a jewel that the world will envy.
Found a nation and lead to political, military and economic dominance.

Master the art of war:
Unleash your creativity:
Sane, in-depth economy:

Sick of inflation? Engage with a dynamic player-run economy involving detailed price statistics and hundreds of player shops.
Become a merchant: Sell goods and ferry items across the world using cargo ships, trains and more.
Read the guide and still have a question? Join our Discord and ask in the #questions channel!

Welcome! When you first join Nations, you will find yourself at the spawn.

Right-click an NPC to teleport to Earth.
You can't return here after leaving, so choose your starting position wisely!

Don't get lost! The map (/map) is a great tool to find somewhere you'd like to settle or join.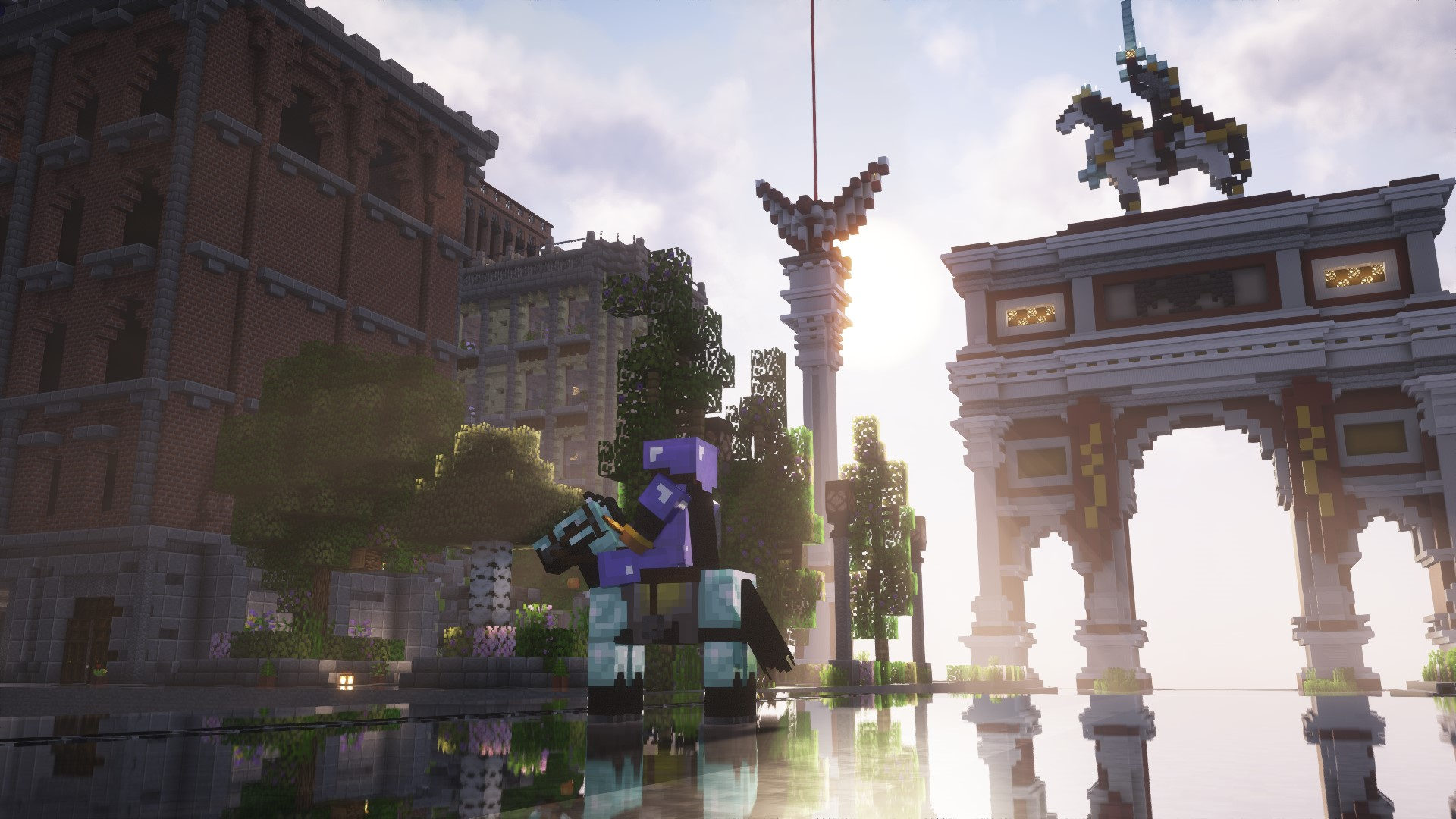 Back to basics: By design, teleportation on Nations is limited.
Your golden ticket: Every new player has one teleport request (/tpa) that can be sent to anyone in the world.

Use this wisely! Subsequent teleport requests will have a range of 200 blocks.

Travel smart with Movecraft! This plugin lets you build trains, warships, cargo ships and so much more!
The Earth is round: The world border can be crossed on both Movecraft vehicles and foot.
Caught in a bind? If you find yourself stuck in claims, use /stuck to free yourself. This has a 90 minute cooldown.
If you are invited to join a town, you may be asked to die so you respawn there. Because keep inventory is enabled for your first death, you won't lose anything by doing this.
To hide from the map, hold a compass in your offhand and a sword, bow, crossbow, axe or gun in your main hand. You'll remain hidden for as long as you do this.
¶ Chat Commands
There are several chat channels that you can join and leave:
General (/g): The default, global chat channel.
Trade (/trd): For trading and business.
International (/int): Whole-server chat channel for foreign languages.
Local (/local): Restricted to players within 200 blocks of your location.
Channels can be joined (/channel join <name>) and ignored (/channel leave <name>). To block a player, you can use /ignore <player>.
¶ Towns and Nations
Land claims are called towns. Towns claim land to protect them from PvP and griefing.
Every town has a mayor (leader) who can invite residents (players who live in the town).
Towns claim 16x16 sections of the world known as chunks or "townblocks", protecting them from PvP and griefing.
Towns can be peaceful (cannot be attacked) and non-peaceful (can be attacked).

Each type comes with its advantages and disadvantages.
We recommend spending some time in someone else's town, who can teach you the basics of Nations!
See: How to create a town
Want to find a town to join? /lft will notify all online town leaders that you are looking for a town.
If you are invited to a town, you will receive a notification in chat. Type /t invite accept <town name> to accept the invite.
See also: How to create a nation
Towns can band together to form nations. Nations are similar to countries in real life.
Nations are made from towns, and one town is the capital city.
The mayor of the capital city is the nation's leader.
Nations can declare enemies, strike alliances and attack towns belonging to enemy nations during sieges.
Why join a nation? Here are some reasons:
Nations give their towns more claimable chunks.

This is called the nation claim bonus, and it increases as the nation grows larger.

Members and allies of a nation cannot attack each other.
Nations will usually help you out and even fund your town.
To view information about a nation, type /n <nation name>.
¶ Peaceful and Non-Peaceful Towns
Main article: Town Peacefulness and Occupation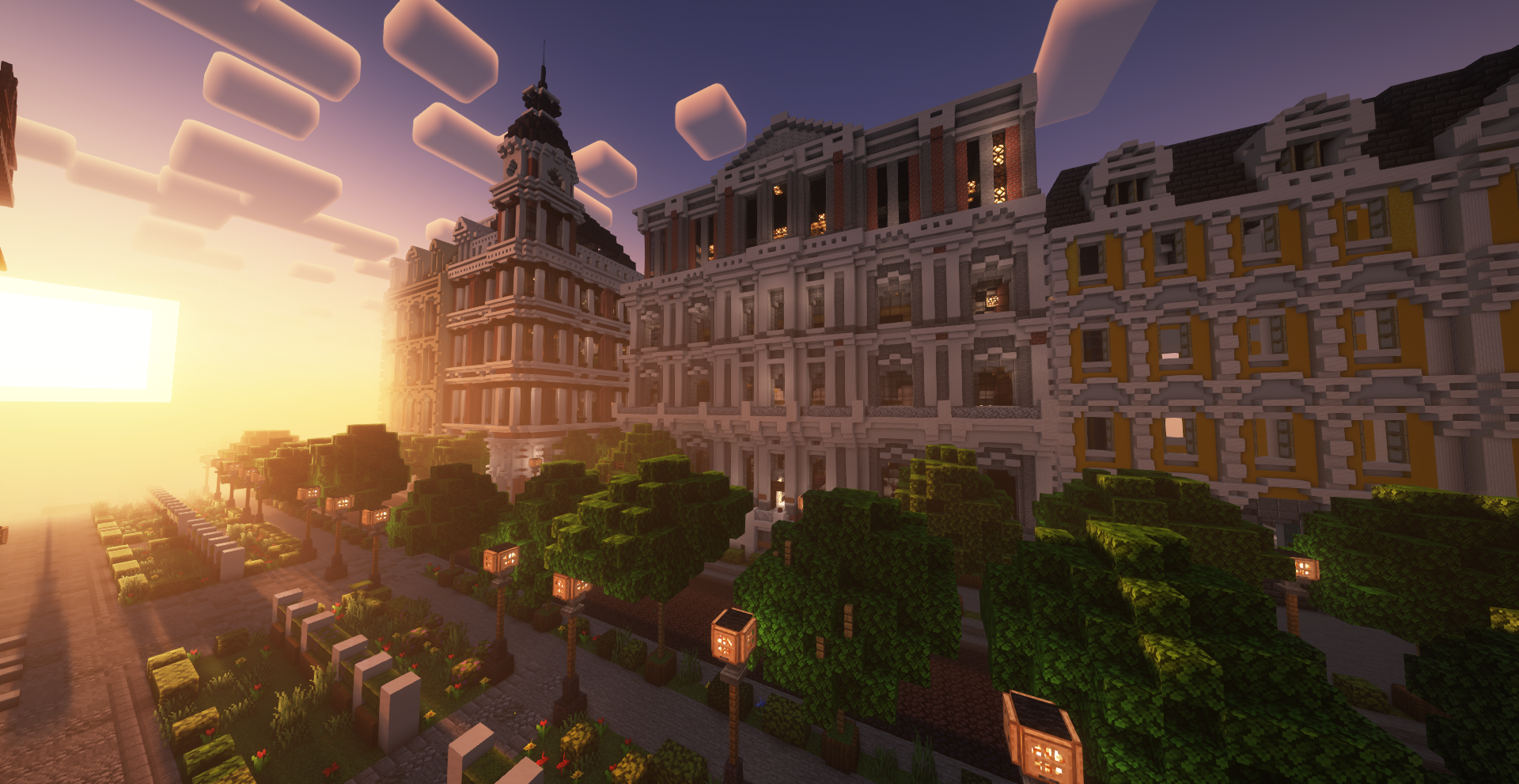 All towns begin as peaceful towns. Peaceful towns cannot be attacked, but they have some restrictions:
They cannot use spawners.
They cannot brew some important PvP potions, like health and strength, nor use electric Potion Brewers.
They cannot create nations.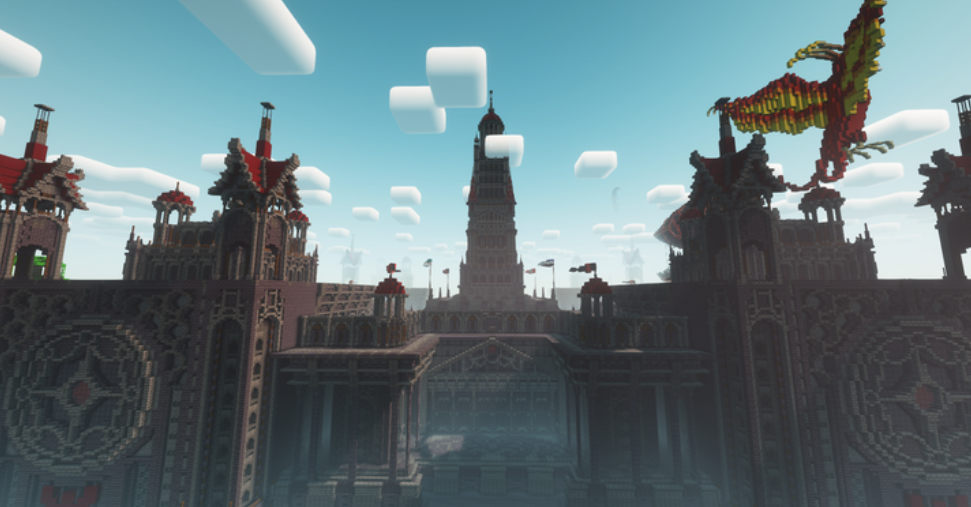 Non-peaceful towns do not have the restrictions of peaceful towns but can be attacked during sieges.
All nations need at least one non-peaceful town to exist.
Peaceful towns can only join a nation if they're within 4,000 blocks of one of its non-peaceful towns.
Because non-peaceful towns can be attacked, most share the same characteristics:
They have cannons for defense.
They have defenses built from blocks that can absorb multiple explosions before breaking (Block HP blocks).
To switch between being peaceful and non-peaceful, type /t toggle peaceful. This process takes a few days. You can see the time remaining by typing /t <name of town>.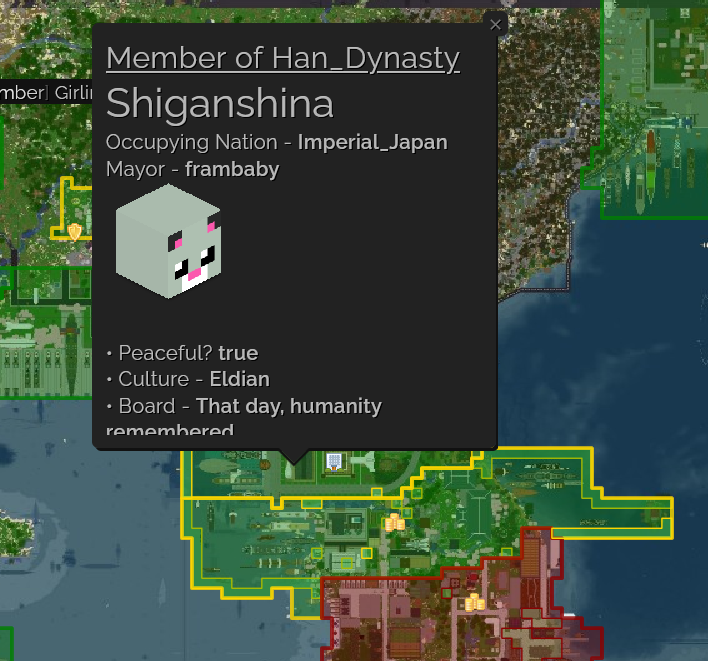 Towns can be occupied by enemy nations as a result of wars ("sieges"). Occupied towns suffer several drawbacks. For example, their residents can be taxed by the occupying nation.
Peaceful towns can't be attacked directly, but that doesn't mean they're immune to occupation! Instead their fate is tied to the closest non-peaceful town in their nation (or in general, if they're not in a nation). If that town is occupied, the peaceful town will also be occupied; if that town is not occupied, the peaceful town will also not be occupied.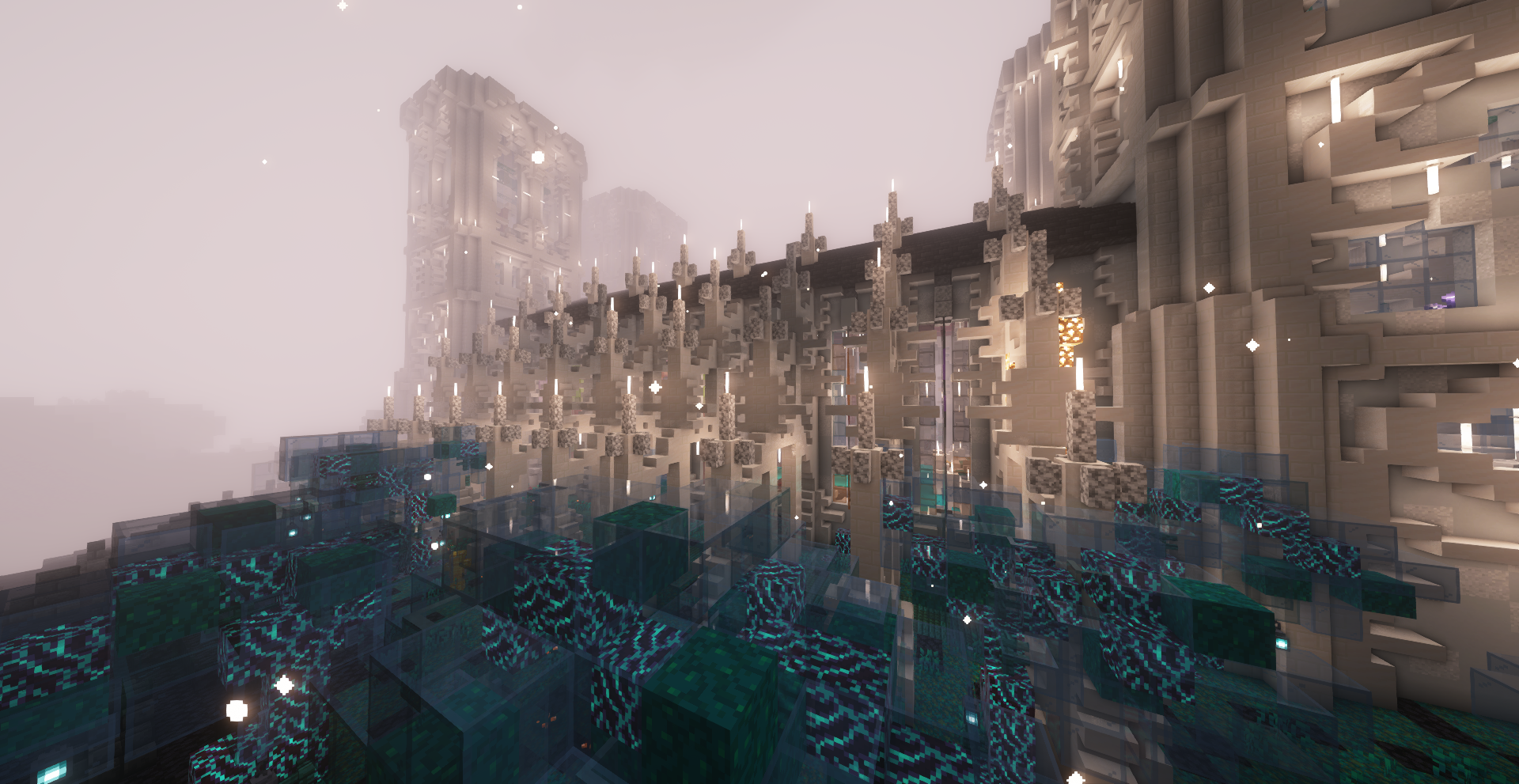 The Nether on Nations has been overhauled with 8 new biomes and 9 new structures. Nether exploration can be a profitable enterprise, yielding lots of gold blocks which can be exchanged for money. But beware - for while these structures contain rewarding loot, they also contain powerful mobs and traps.
Main article: The Economy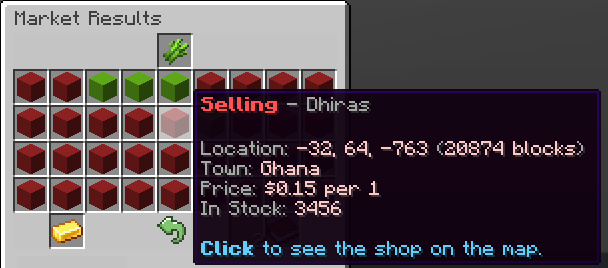 The economy on Nations is player-driven: there is no official server shop that buys or sells items for money. Instead, money can be earned in several ways:
Sell gold to /bank for $9 per ingot.
Sell silver to /bank for $4.5 per ingot. Silver is not an ore; it is a byproduct of Slimefun (industry). More on Slimefun later.
Complete quests. /quests
Sell items to player shops that buy items (/market), or create your own player shops that sell items.
Sell items on the Global Market (/ah).
Create a town and help new players reach Voyager rank (/recruitbonus).
Because there is no central server shop, the prices of items are determined through the market, not staff or a plugin.
The value command displays item price statistics: /value <item> <amount>
The most traded items can be listed using /toptraded
To find items to buy, check the Global Market (/ah). If an item you're looking for is not listed there, use /market search to find a player shop.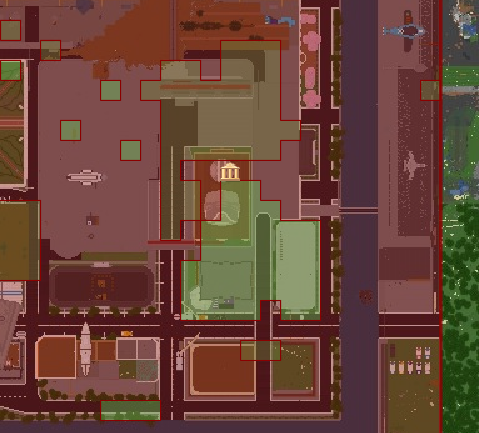 The Global Market (/ah) can be used from shop plots in any nation's capital city. Capital cities are marked with government building icons on the map. Shop plots are highlighted in green.
Main article: Resource Extraction

You can discover resources at your town, which will be produced daily.
Certain resources can only be found at towns that are in the right biomes - for example, Oil can only be found in towns located in desert biomes.
If you are in a nation or occupied by one, the nation will take a share of your daily production.
Main article: Slimefun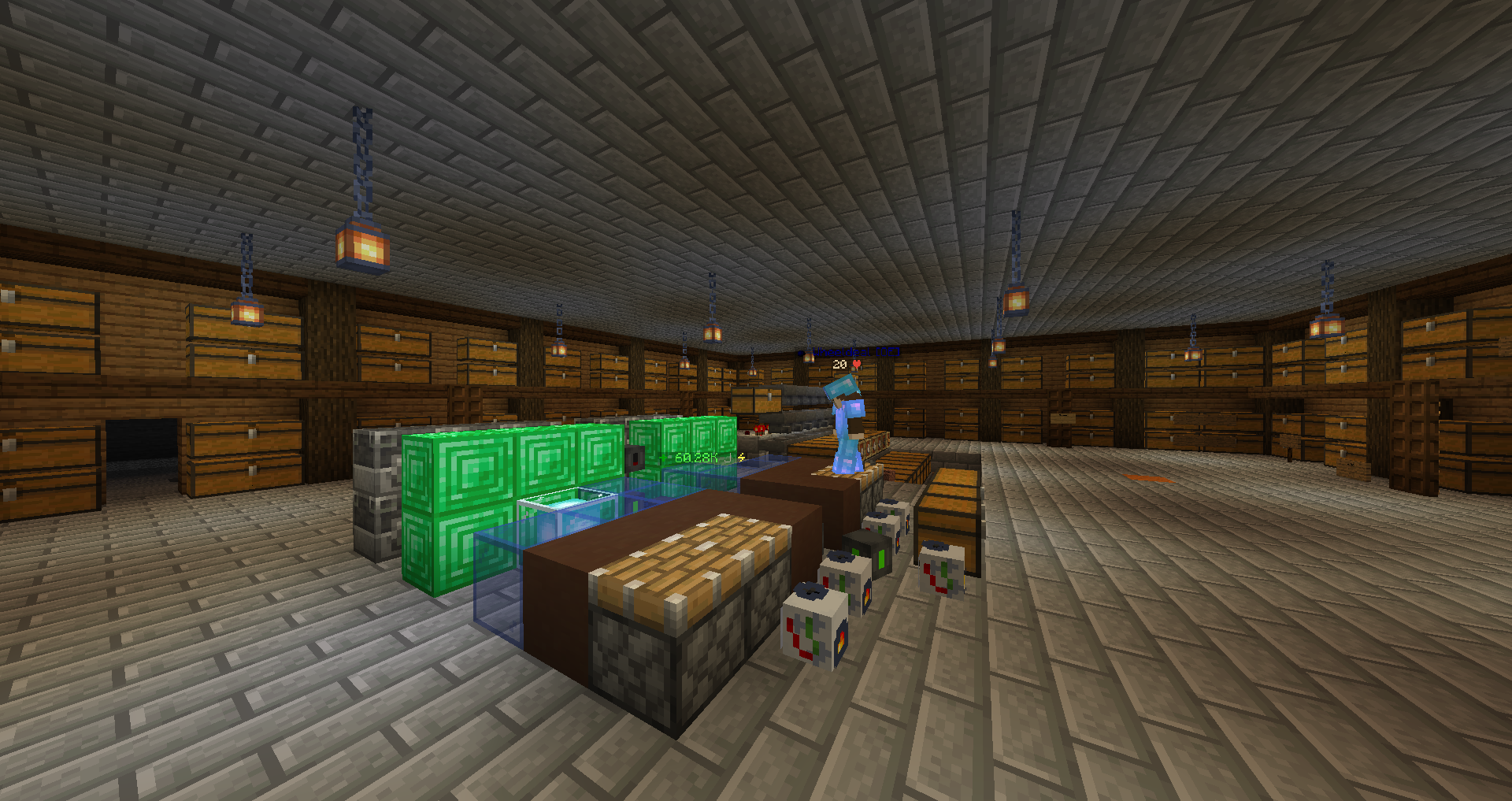 By now, you may have created or joined a town and are wondering what to do next. Getting involved with industry can be a difficult but rewarding process that will allow you to create and work machines, useful for day-to-day tasks or bigger-scale production.
All recipes for Slimefun can be viewed through the Slimefun Guide. You should have spawned with one, but in case you have lost the book, type /sf book to obtain it again (or open it without obtaining a book, through /sf guide).
There are many machines, each with a distinct use, but here is a selection you may want to make:
The Igneous Processor uses energy to create Stone, Sand, Deepslate, and other basic blocks.
A Tier V Enhanced Furnace (or above) for faster smelting and greater fuel efficiency. It will also have a chance to smelt more than one ingot from Raw Iron and Copper.
The Auto-Enchanter applies enchantments from books to gear, without requiring XP.
The Auto-Disenchanter extracts enchantments from an item into a book.
The Auto-Anvil repairs tools by using Duct Tape, without requiring XP.
The Runic Anvil is a Slimefun machine that allows you to obtain Netherite and apply Runes to tools and armour.
Runes are powerful modifications to gear (tools, weapons, and armor) that can help you in combat and resource-gathering, and have high utility value. They are usually very sought-after for their effects.
Main article: Movecraft Tutorial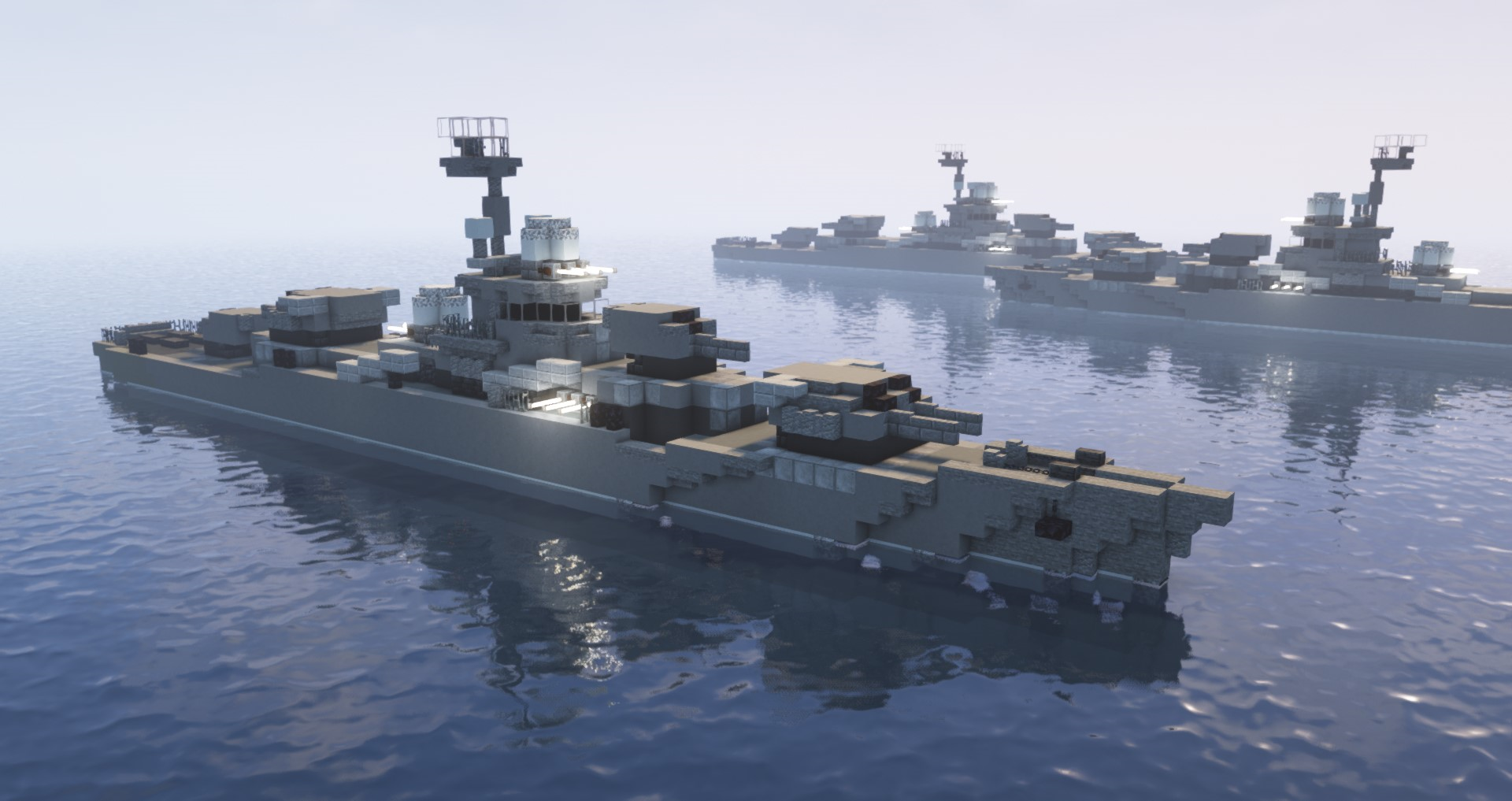 Watch: A battle between two dreadnoughts!
Movecraft is a plugin used on Nations to create over 20 types of naval, ground and aerial vehicles called 'crafts'. Each craft type fulfills a specific role: some are used for trading, while others can be armed with guns to demolish forts and other craft.
Craft are designed and built by you, block by block. As long as they meet the block requirements for their craft type, you have complete control over how they are constructed.
Shipbuilding is a popular profession, and well-built ships are always in demand. For maritime nations, a powerful fleet is vital for trading and projecting their power across the world. For landlocked nations, ground and aerial vehicles can be used to quickly move people and cargo, and are essential for assaulting enemy forts.
Does that sound interesting? Click here for a tutorial on how to use Movecraft.
Main article: Naval Sieges
Aircraft Carriers, Destroyers, and Dreadnoughts can fight in Naval Sieges. A Naval Siege begins when someone enters and attempts to take control of a Naval Siege Region.
Naval Siege Regions reward their owner with money daily. Some also grant the owner access to build and destroy strategic naval chokepoints (e.g. the Suez Canal), who can then choose to open and close them. But be wary, as these chokepoints are fiercely contested by the largest navies!
¶ Guns, Cannons and Combat
There are many elements to Nations combat:
Potion Melee PvP
Guns
Cannons
Horses
Movecraft vehicles: tanks, aircraft and more
These are explained more below, but if you are interested in seeing all of these in action, check out our team PvP arenas in /server pvp!
Main article: Cannons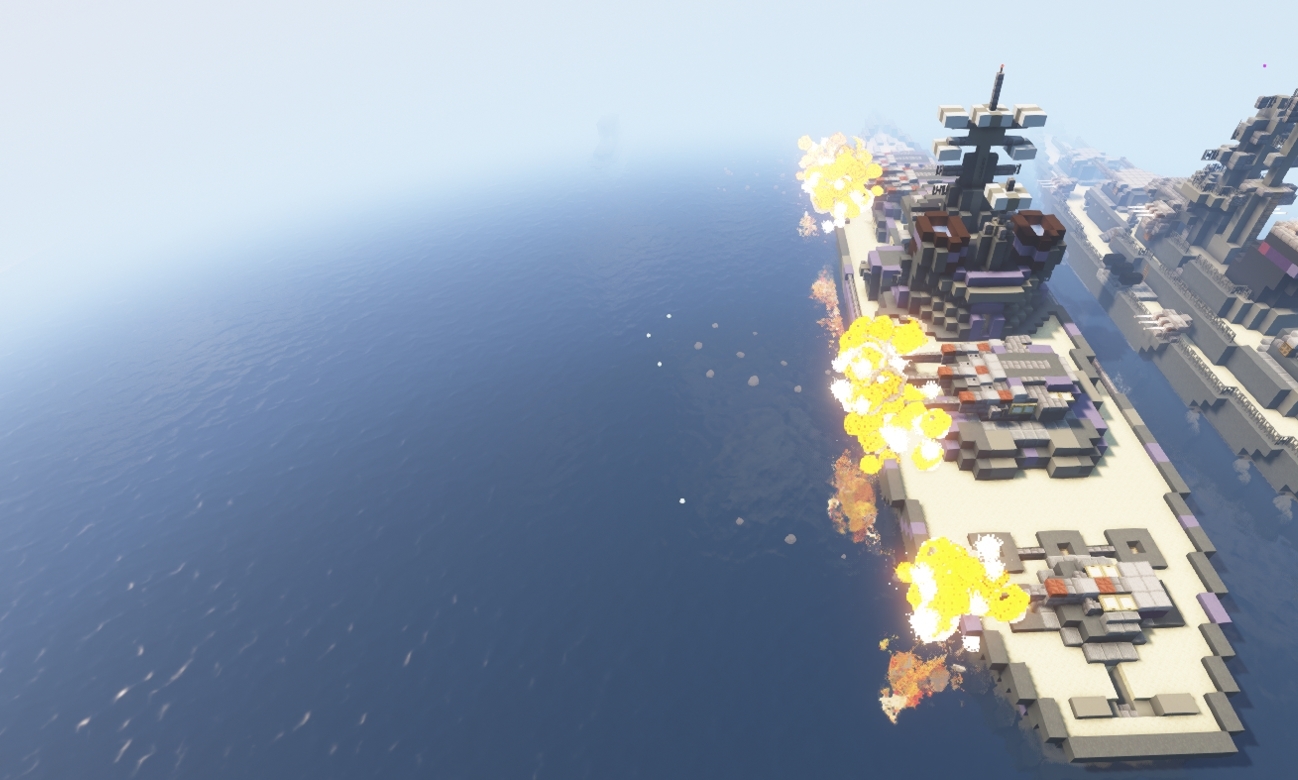 Cannons serve as the main armament of Movecraft vehicles and can also be fired from Non-Peaceful towns to assist in their defense.
Cannons can fire different projectiles, each dealing a unique effect. For example, Incendiary Shells will ignite their area of impact, while Armour-Piercing Shells can penetrate multiple blocks before exploding.
Of course, Cannons can be used against Non-Peaceful towns just as they can help defend them. Fortunately, there are blocks that can absorb multiple hits from cannon projectiles before breaking. Click here for the list and more details on them.
Main article/section: PvP Combat: Guns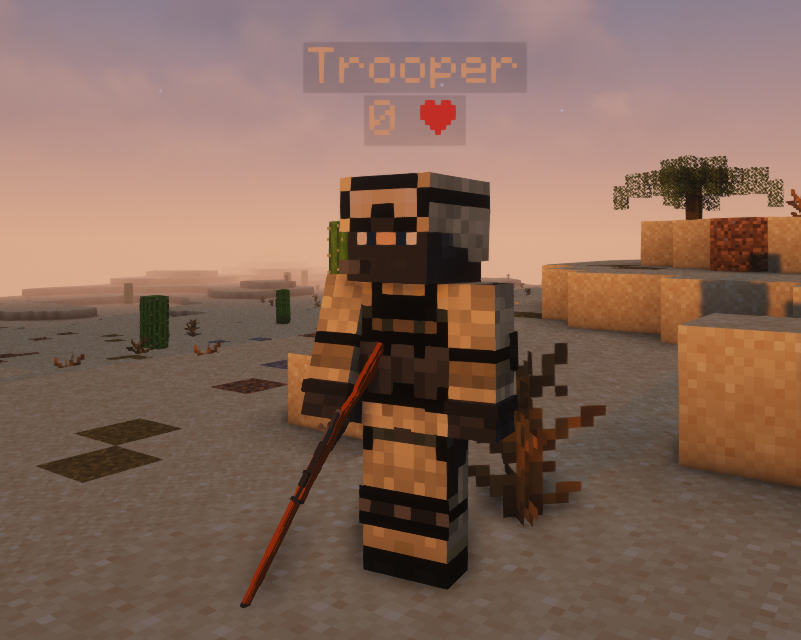 There are four classes of guns on Nations:
Rifles are accurate, high-damage guns with low ammunition capacities and fire rates.
Carbines are variants of rifles that can be fired from horseback and have a bayonet for melee combat.
Machine guns are rapid-fire, low damage support weapons. They give enemies the Suppression debuff, which increases the damage they take from all guns.
Sidearms are smaller, mobile weapons with average damage and fire rate, used in close combat.
All Gun classes are most effective when used together. For example, a team of one machine gunner and one rifleman will inflict more damage than two riflemen, due to the Suppression effect.
Guns can be crafted through /guns and ammunition through /ammo.
Main article: PvP Combat
Cavalry can now play a role in battle! Damage dealt while on horseback (and even camelback!) has been increased, along with the protection that craftable horse armor gives. The damage boost from being on horseback depends on how fast your horse is moving, so always try to stay on the move.
Ender pearls have a 5 minute cooldown.
Golden Apples, Enchanted Golden Apples and End Crystals are disabled.
Infinity, Mending, Riptide are disabled.
Netherite Armor is the same as Diamond Armor, except in durability. Netherite Swords and Axes function normally as in Vanilla.

Netherite cannot be obtained through Ancient Debris/Netherite Scraps. Instead, you must use the Runes system.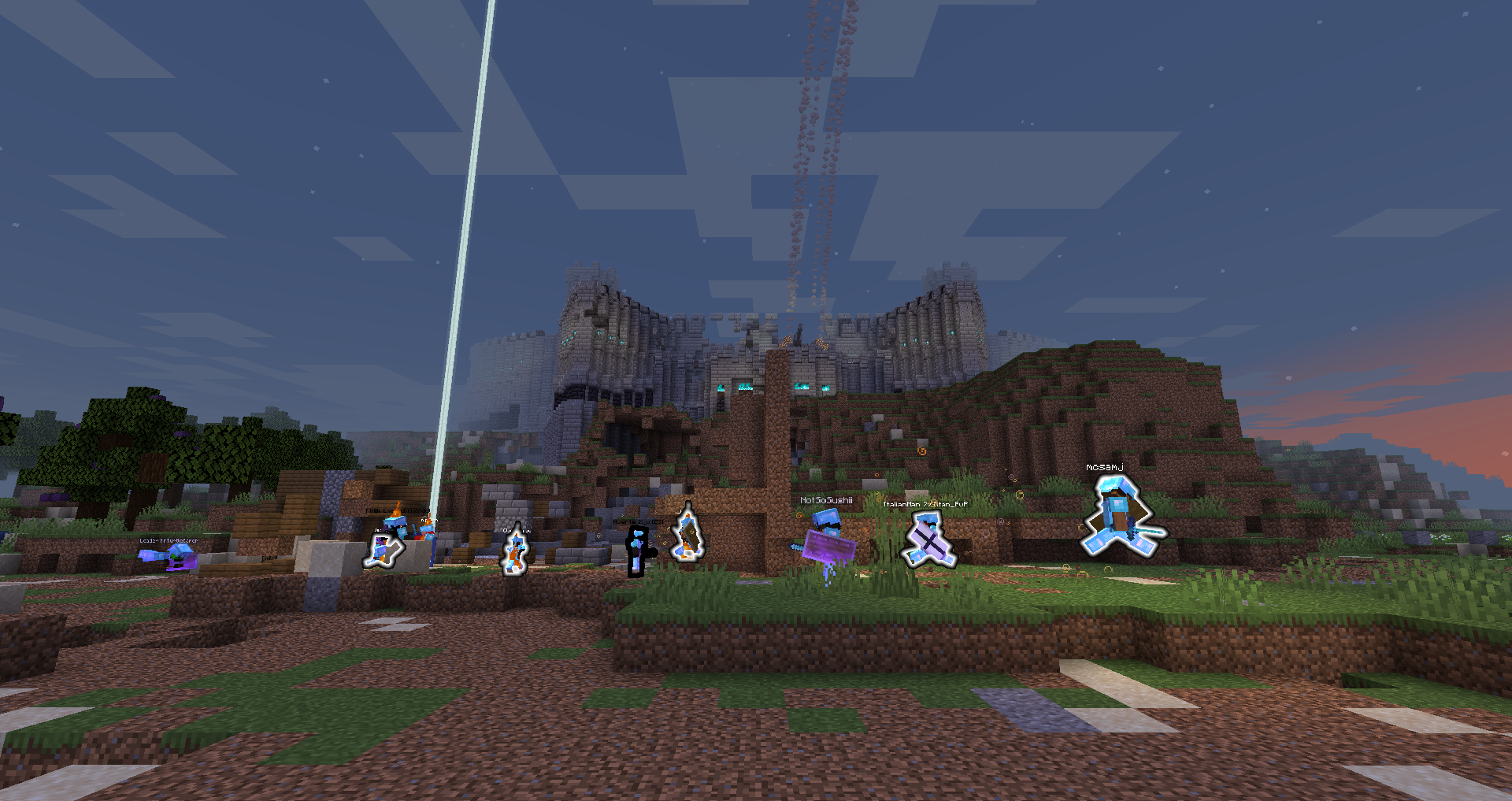 Watch: A player-made cinematic of a siege
Main article: Sieges
Sieges are the main means of warfare on Nations. Sieges can be started against any non-peaceful town which lacks siege immunity; all new towns start with several weeks of immunity. They can be fought to occupy towns or free them from occupation.
A siege begins with the attackers placing a banner in the Wilderness outside a town. This banner becomes the siege banner, and the objective of both sides is earn points by controlling ('cap') the banner, or killing enemies and enemy vehicles near it. The side which wins the most points wins the siege.
Sieges can only begin on Fridays and last for a maximum of 48 hours. Fighting isn't continuous, however - every siege is divided into active phases (battle sessions) which are separated by breaks. They can end early if one side surrenders.
A typical siege will see extensive usage of PvP, cannons, guns and vehicles. The besieged town can be bombed during battle sessions, although most damage will be automatically repaired after the siege. Furthermore, there is limited keep inventory at sieges: if you die, you will keep your armour and some weapons, although they will lose 20% of their maximum durability (and will drop if they take enough damage to break).